All of these photos are so fun to look at! Thank you again.
In the first photo, one may see the
crease
in Elvis' pants, from where they were folded on a hanger!
rizzy56 wrote:

drjohncarpenter wrote:These are really beautiful! You can see how gorgeous Elvis' shiny shoes were!

Thank you for posting these.

You are more than welcome Doc.
The above shot could be the sponsor telling Elvis he's only going to be seen from the waist up...
Seriously, all of these images show that Sullivan had gone all out for a very special stage design for Elvis and his band. And almost none of it was seen on the broadcast that evening, which means the decision to censor the "full body shot" had to have been made sometime after dress rehearsal. One wonders how Scotty, Bill and D.J. felt about being cut out?
George Smith wrote:Fabulous, thank you.

Does the lyric sheet indicate that he was still learning the words to "Too Much"?
Elvis apparently had enough trouble with "Too Much" that he dropped it from the potential set list for the benefit show he did three weeks prior, in Shreveport on December 15. But he had to do it on the Sullivan show, it had just been issued by RCA Victor.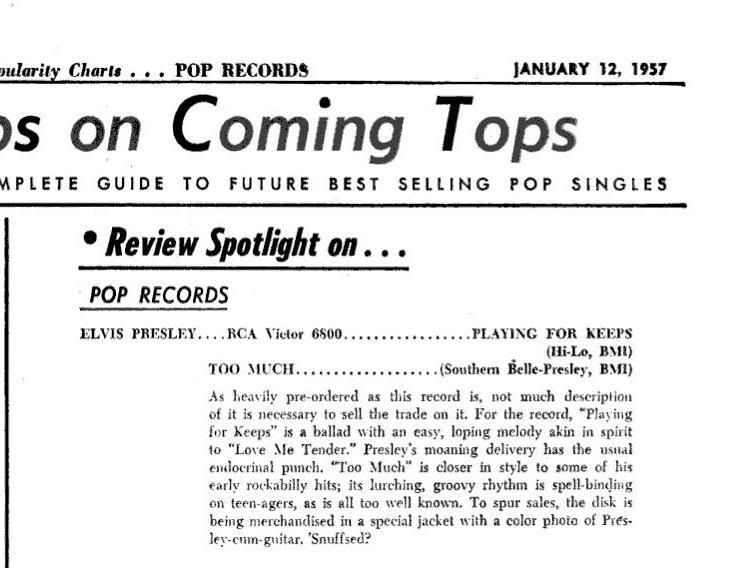 Billboard

- January 12, 1957
Thanks again for the awesome snaps!