i think, in fact the bootleg covers were often superior to rca´s.
by the 1970s the the pictures from his own record company became worse and worse.
here are my candidates: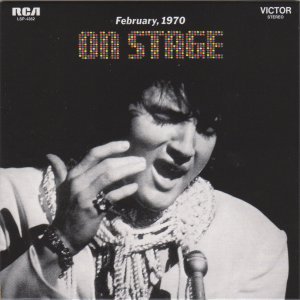 on stage: so we are in 1970 here. why then a b/w foto for a live-cut oft his colourfull vegas season? the picture itself does not do him justice: he looks complaining and wears a strange decoration around his neck.
did our man look like this at his artistic peak in the 1970s? surely not!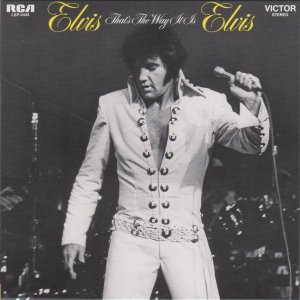 that´s the way it is: content: not a real or complete soundtrack of the movie (as one may assume). cover: again in b&w (like the movie or what??) and elvis looks uninspired, bored and old to me and gives a complete different impression, compared to the motion picture.
rca gave away the chance to deliver a real (movie-promoting) soundtrack.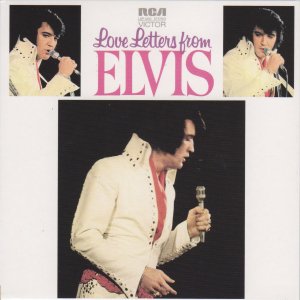 love letters: nice idea to decorate the backcover with letters and hearts. the frontcover is illustrated with three shots of this strange timeframe (last month of 1970) where elvis didn´t look healthy (much too slim) and simply not like himself to me. the worst of the three photos (the one that is blurred) was chosen as the biggest on the cover. does this make sense? not to me.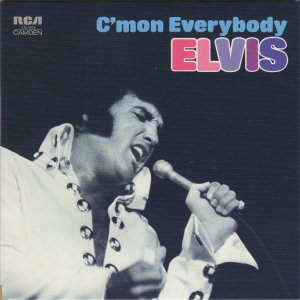 c´mon everybody: the camden release.
again in b/w (was colorphotography not invented yet by 1971?) with a corpulent looking elvis.
does the content match the cover? of course not.
is it inventive? no. good advertising? again no. seems that rca/the colonel thought it would sell anyway.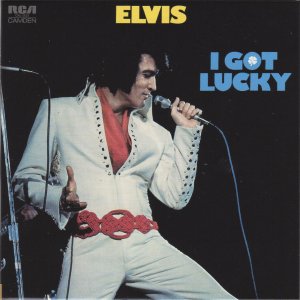 i got lucky: another camden release.
i could repeat almost everything of the forementioned, when it comes to this one. ok, ok, it´s a colorfoto this time, but (like love letters) from the timeframe where he look suspect to me (i think elvis looks like a junkie here). at least, it is a current (but not a pretty) one.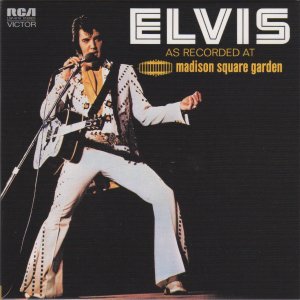 as recorded at madison square garden: never liked this one either.
there were not too many foto-books on the market by 1972 (not like today). does a 1972 elvis look like this? to me he looks simply disadvantageous and old, standing alone in front of a dark background. where is the band, where is the orchestra, where are the choirs? it is a live album, isn´t it?
rca did better with "an afternoon at the garden".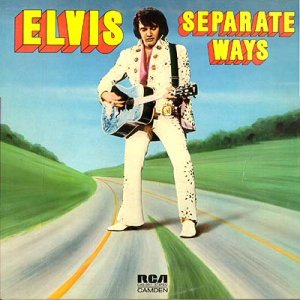 separate ways: camden again.
a clever idea with the highway style (the other version shows an actual foto of a highway) and the supermanlike letters. but why taking a sloppy foto of an elvis who looks not only like "neil diamond" (as someone else said), but wasted and almost stoned?
if it wasn´t this pic the cover could have it´s charme.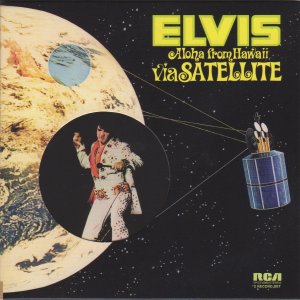 aloha from hawaii: the worst of the 70s.
i never understood it. why oh why did they choose the absolutely worst foto of our man, that someone could find?
elvis does not look corpulent (like on "c´mon everybody") but nothing but fat! like a mentally handicapped person in a jumpsuit (i´m sorry, nothing against disabled persons!).
it was only for the tv-special that the content, that this album rocked the charts.
i asked myself, if rca/the colonel wanted to harm him on purpose with this one.
and i´m still wondering, what elvis must have thought about it.
the bootleggers (with the alternate aloha and rca itself with the same in the 80s) did a much better job and we all know how brilliant he looked in hawaii!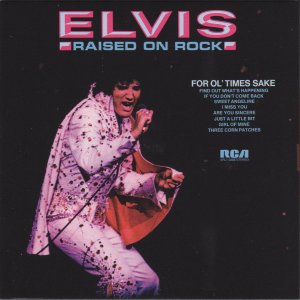 raised on rock: a live album again (as one may suppose because of the cover)? not at all!
but the picture is not only unfitting to the content, it´s also an ugly one, like the first on they could find. so many great fotos exist from ´73, simply because he was in great shape during aloha and after, but no one seemed to bother (inluding the star himself).
the whole artwork looks cheap and sloppy.
the same can be said about the next three.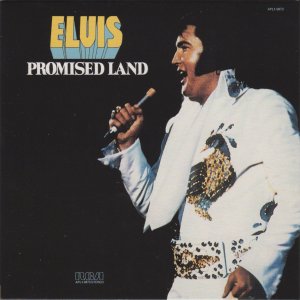 promised land.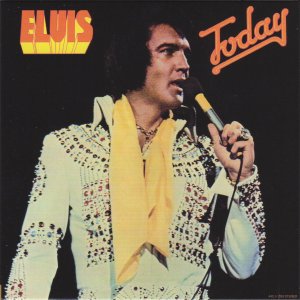 today: the pic itself is a cut out and elvis looks totally untypical and like his own worst wax work.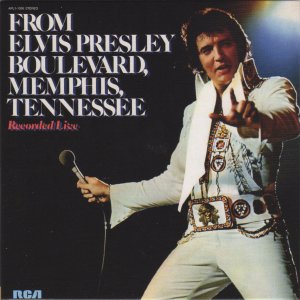 from elvis presley boulevard, memphis, tennessee: original release: "recorded live", aah, another live album, i see ...
i know, it´s one of the most popular pictures, but to me, he looks a bit drunken ... there are so many better, but ... psst! ... don´t tell rca/the colonel!!!
forever: i know, i know, it is one of the most prominent mainstream albums and one of the (if not
the
) most sold.
boring artwork, every apprentice could have done better.
and let´s be honest, (like on "today") if madame tussaud had had
this
doll on display,
everyone
had protested and she would have been forced to replace it!
Last edited by Christopher on Fri Nov 03, 2006 3:09 am, edited 4 times in total.