Excellent thread --- just directed here from that other newer one.
davide wrote:Further info

In 1975 ABC destroyed the master videotape to free up space in their storage facilities. Video technicians did their best to improve an inferior copy for use in the "Sinatra - Classic Duets" PBS special.


Malcom Leo talking about 'This Is Elvis'

"The Sinatra Timex show actually came to us through Elvis own collection when we returned from Memphis with a lot of filmed material,there was an unmarked box and it was Elvis copy of the Timex show. We Subsequently got a better copy from an ABC affiliate station,I forget where."

ETMAHM Number 7
Can you believe that? Sheesh! In 1975, no less! It's almost as bad as RCA's infamous dynamiting then bulldozing into the Delaware River hours of tapes and vinyl, including those sorely-lost-for-all time alternates of "Hound Dog," "Don't Be Cruel," etc:!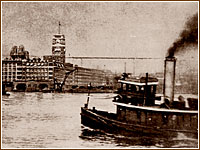 (At Right, RCA Victor's "Nipper Tower", Camden, New Jersey, as seen from the Delaware River)
From
"Heritage Preserved and Heritage Ignored"
http://www.clir.org/pubs/reports/pub126/ivey.html
In the early 1960s, in what Billboard correspondent Bill Holland described as a "most spectacular case of wholesale vault trashing," RCA Records demolished its Camden, New Jersey, warehouse by first dynamiting the building and its contents, then bulldozing the rubble into the Delaware River. Through this single action, the record company notched a rare triple crown of destruction: It blew away a historic structure, polluted a famous waterway, and blasted four floors of cultural heritage—vinyl and metal master disc recordings—into oblivion.

The scope of this multifaceted demolition remains startling even today, but I find a related point more relevant; less than a decade after RCA destroyed a portion of its heritage, the company's insensitive trifecta would have been nearly impossible. No laws securing historic recordings had been passed, but, by the late 1960s, public policy had evolved a set of laws and regulations designed to protect both the warehouse and the river itself—historic structures and the natural environment.
By the way, who's the source for your story on the trashing of the TIMEX special in '75 - Malcolm Leo? I wasn't clear on that from your post. Thanks in advance!