Great photos and info, like always, again, thank you very much
Well, i have a problem with some photos, i don't know the right context:
#1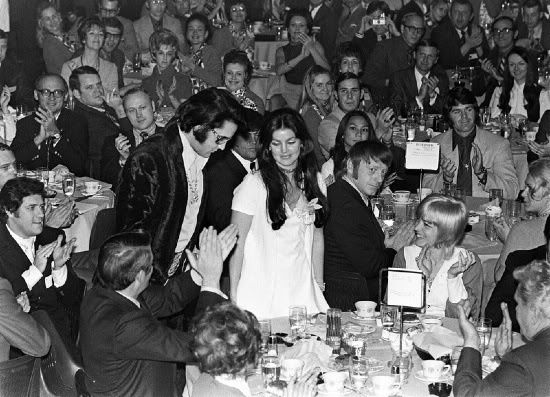 #2
#3
#4
Photo #1 - it's clear, Elvis is being introduced with Priscilla beside him at the US Jaycee prayer breakfast.
Photo #2 - it's clear, signing autographs and posing for photos, leaving to his hotel (same suit like photo #1).
Photo #3 and #4 - Elvis wear
another suit
, this is what i don't understand.
At ten o'clock, after a speech by West Memphis political operative Deloss Walker, subbing for Arkansas governor Dale Bumpers, breakfast was followed by a forum and a question and answer session that was closed to the press. (...) Standing next to presidential press secretary Ron Ziegler, his rings prominently on display, Elvis was asked if he felt that today's music had an adverse effect on young people. (...) The prayer breakfast ended with a query about religious beliefs. (...) Afterward Elvis broke off from signing autographs and posing for photos.
After the breakfast Elvis go to his hotel, change the suit and return for 10 a.m. forum? Maibe anyone can help me with the right order of the photos. Thank you.