drjohncarpenter wrote:Well, the U.S. Army may have shaved Elvis' locks and sent him off to Fort Hood, Texas about a week before, but RCA was undaunted.
On
April 7, 1958
, Presley's
first single of the New Year
was issued: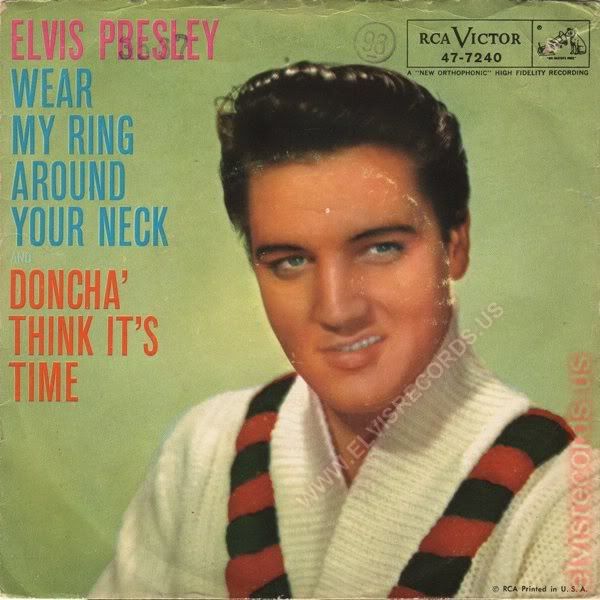 "Wear My Ring Around Your Neck" b/w "Doncha' Think It's Time" (RCA Victor 47-7240)
Image courtesy of the amazing site,

www.elvisrecords.us | The Elvis Presley Record Research Database
A stunning, bordering on cocky, full-page ad appeared in
Billboard
on the same day:
Billboard

- April 7, 1958
The A-side was completed in two sessions at Radio Recorders in West Hollywood, on
February 1
and
February 26, 1958
.
The second date is significant in that it was a special "overdub" session, commandeered by Presley himself.
Deeming the original master not attractive enough to be a hit, Elvis laid down a guitar back beat overdub, followed by a piano overdub.
The master at work, and just 23 years old!
The RCA ad was no lie, initial sales were
huge
!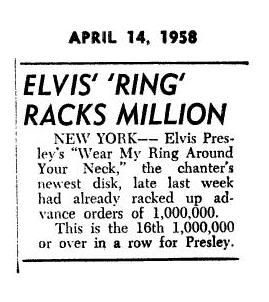 Billboard

- April 14, 1958
The single flew up the charts but, despite the extra overdub effort, it only reached #2 U.S. Pop.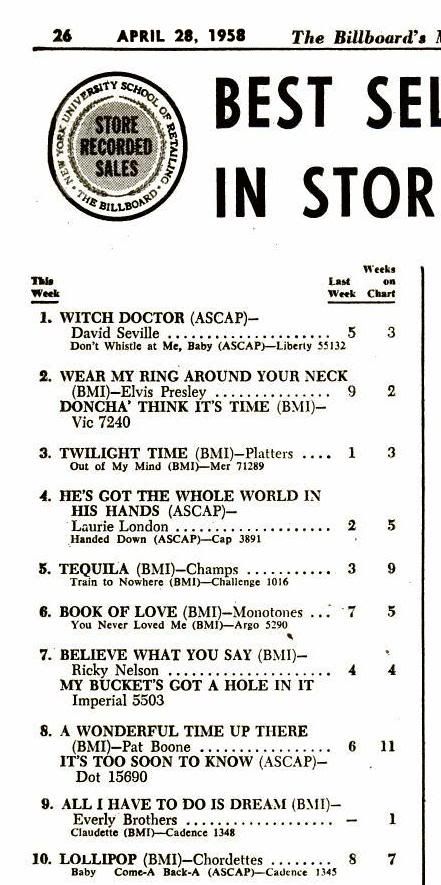 Billboard

- April 28, 1958
The next two years would see Elvis mostly out of commission, at the height of his young powers.
And, save a brief, last-minute "King Creole" session at Paramount, the single also marked original bass player
Bill Black
's final recordings with Presley.
It was the best of times, it was the worst of times.