Thanks to everyone with a kind comment.
"If I Can Dream" is the one Elvis performance that never fails to bring a jaded, non-Presley fan to tears.
How many TV shows, let alone moments like the closer above, do people still talk about from 1968?
Elvis' December 3 broadcast on NBC-TV is just about the only one.
stupot wrote:I must say I dont see any Tom Jones influence, nor any other singer... not even Elvis himself.

Vocally and artistically Elvis just transcended the known limits.
Yes, true -- but the Jones influence is unmistakable nonetheless.
Whereas in 1968 Elvis seized back from Tom the fervor that he'd loved in Presley's classic 50s recordings, in 1970-71 Elvis embraced the over-the-top ballad style that Jones had perfected.
It was mere weeks before taping, on Saturday, April 6, Elvis saw Jones rock the Flamingo. It was Tom's Las Vegas debut, having signed a $980,000 contract with the hotel the previous October. His career was ascending, and the show was considered a big change in the entertainment scene.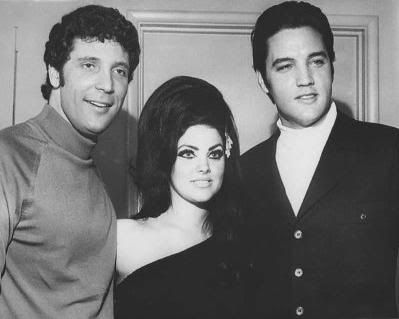 Tom Jones, Priscilla, Elvis - Flamingo Hotel, Saturday, April 6, 1968