Rolling Stone #213 - May 20, 1976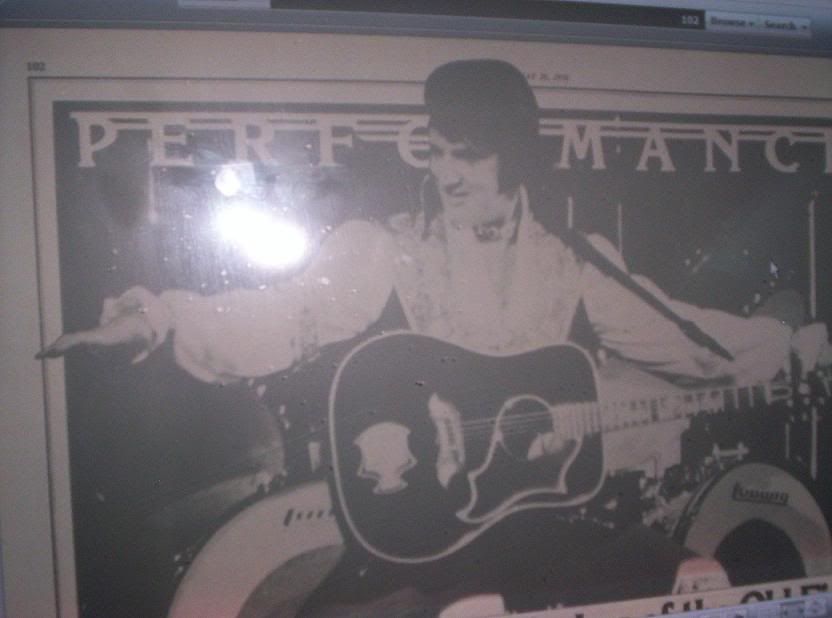 Gold-Spangled Elvis: Flashes Of The Old Fire
Elvis Presley, Kiel Auditorium, St. Louis, Missouri - March 22nd, 1976
by Harper Barnes
These days, Elvis Presley wraps himself in the power of other people. There are ten backup singers, including a female high-note specialist and a male low-note specialist; three guitar players, including the brilliant James Burton; a bassist; a pianist on a miked grand; two drummers; an immense horn section; and god knows what else hidden in the tangle of arms and legs.
In St. Louis, where he ended a four-city mini tour that had touched Johnson City, Tennessee, Charlotte and Cincinnati, the whole human calliope was going full boil virtually all the time, embracing Elvis in a dense helix of sound. And the rock they play now is harder and louder than it used to be, a lot closer to Capricorn Records than to Sun.
Elvis seems weak, perhaps justifiably so after a prolonged battle with overweight, a battle he has only partially won and problems with his innards that sent him to the hospital. His set lasted barely 50 minutes, he loafed even more than usual and there were none of the karate chops and leaps of a few years ago.
But the fire burned through from time to time, and besides, it was Elvis Presley. You go to see him as much out of reverance for the past as from expectation for the immediate future. The auditorium, which seats 10,500, had been sold out for weeks. A crippled girl had been unable to get tickets and all she cared about in the world is Elvis Presley. There was a story in the paper and as if by magic a St. Louis massage parlor came up with a couple of ducats right up near the front for the little lady and her friend who pushes the wheelchair. There was a story about that in the paper too.
A creepy Las Vegas comedian named Jackie Kahane, who must be blackmailing Elvis or maybe is his brother-in-law told some prune juice jokes. Then it was time once again for the humble strains of 2001 (Thus Spake Zarathustra), and the rock 'n' roll obelisk named Elvis Presley hove into view. No cape this time, just basic gold-spangled black pants and vest over a ruffled and daringly low-cut baby-blue shirt.
He began with a fast "C.C. Rider" and then really ripped into "I Got A Woman," which became briefly entangled with "Amen," but soon emerged unscathed. The Instamatics were present in approximately one-to-one ratio with the bouffant hairdos and for a while the flash cubes were going off so rapidly it looked like high noon. That must have confused Elvis because, after long applause and a general rush of femininity toward the stage -- the audience was at least two-thirds women, including many mother-and-daughter combos -- he said, "I hope we have a good time this afternoon." It was about 10 P.M.
With the teasing elegance of a stripper in a room full of neck fetishists, Elvis removed and tossed into the audience two or three dozen scarves in the course of the evening, as has become his custom. If you didn't catch one, you could buy them in the lobby at five dollars apiece.
With a couple of exceptions, the remainder of the show. which seemed to be over in a blink, was devoted to a recitation of the classics. It was done quickly and perfunctorily -- with a couple of exceptions - and Elvis leaned on the band for support much of the way. There was "Don't Be Cruel," "Heartbreak Hotel," "Love Me Tender" -- lots of squeals and camera flashes on that one -- "Polk Salad Annie," "Hound Dog." Elvis sort of mumbled his way through the last, but when he was through singing, Burton took off on a glass-etching run of high notes. Elvis twitched his ass to the beat and the crowd went bonkers.
He closed with "Funny How Time Slips Away" -- yes, isn't it -- and "Can't Help Falling In Love." The crowd at the apron of the stage by then consisted of maybe 300 people jammed together, with the ones closest to Elvis reaching up desperately to touch the hem of his garment. As the last note decayed into the vast dome of the ceiling, Elvis turned on his heel and strode into the wings, followed by four or five bodyguards. The crush of women below the front of the stage squealed and waved Elvis goodbye and above the fluttering fingers, held tightly in a strong right hand, swayed a crutch.
Harper Barnes is a feature writer for the St. Louis 'Post Dispatch' and book columnist for Boston's 'Real Paper.'