Here's what we know, after 40+ years!
MEMPHIS, SATURDAY, FEBRUARY 25, 1961 - THE CHARITY SHOWS
Governor of Tennessee,
Buford Ellington
proclaimed it "Elvis Presley Day" in the state and made Elvis an honorary colonel by giving him the title "Colonel, Aide de Camp on the Governor's Staff." Memphis Mayor
Henry Loeb
designated it "Elvis Presley Day" in the city.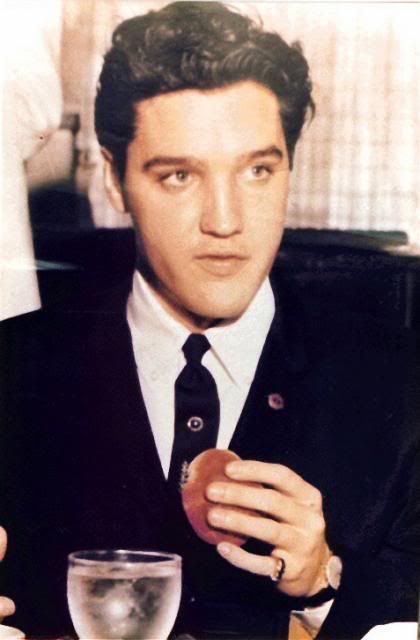 Afternoon Lunch
Prior to the shows, a luncheon was held in Elvis' honor at the Claridge Hotel in downtown Memphis. The $100-per-plate event raised $17,000, thanks in part to the donation of food and service by the Claridge. At the luncheon, RCA presented Elvis with a diamond watch, and a plaque, marking his achievement of selling over 75 million records.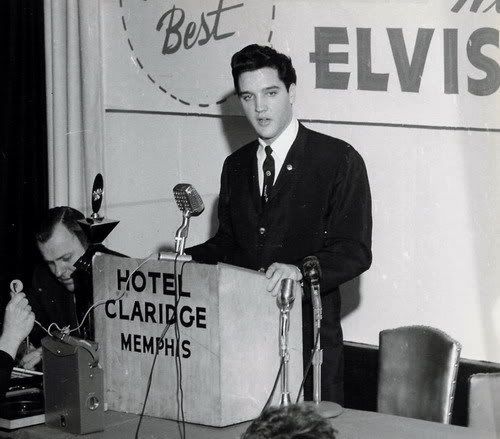 Afternoon Press Conference
Afterwards, a press conference was held. Only issued in full to the fans 16 years later, these are some of the highlights:
Press: "Everybody wants to know...how is your love life?"

Elvis

: "Well, it hasn't progressed any. It's about like it was. Nothing serious. I'll let you know if anything comes of it. Couldn't hide it anyway (laughs)."

Press: "Elvis, are you going to move to Hollywood ... or are you gonna stay here?"

Elvis

: "No sir, I'll stay here."

Press: "Which one of your movies do you think you did the best job acting?"

Elvis

: "King Creole."

Press: "You haven't been on stage for three years, are you a little bit nervous?"

Elvis

: "Yes sir. I don't mind admitting I am. But when I did the Frank Sinatra show in Florida, I wasn't nervous, I was petrified, I was scared stiff! (laughter)"
Elvis went on to perform at 3 PM and at 8 PM in Ellis Auditorium's North Hall. A ticket cost $3.00. Attendance at the matinée was 3,860, with 6,540 in the evening. Because the first show sold out in a day, a matinée was hastily added, which might explain the disparity in attendance.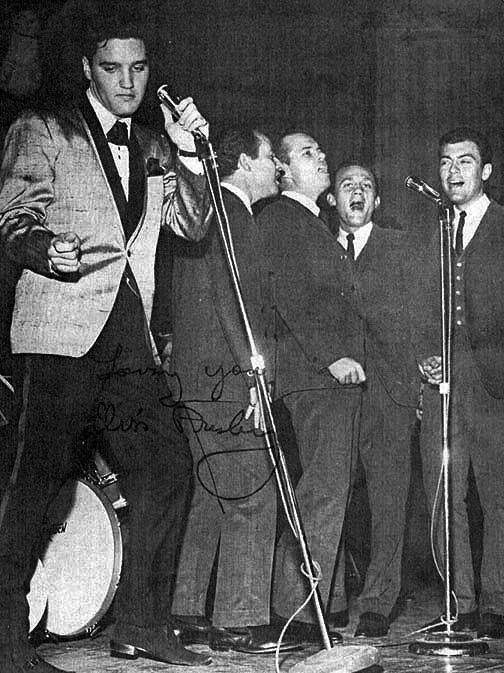 Afternoon Show
In longtime local super-fan
Gary Pepper
's
The Tankcaster
, issue #6 from April 1961, candid reviews were offered.
The first came from
Mrs. E.R. Branch
, who saw everything that day, from lunch to press conference to both shows. The part of her report which describes the matinée, published in
The Tankcaster
, is just below.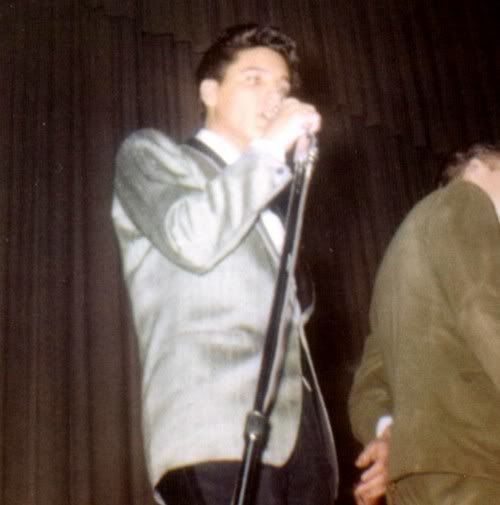 Afternoon Show
Mrs. E.R. Branch wrote:He started singing right away, beginning with "Heartbreak Hotel" ... he had on black pants with a stripe down the side ... and white ruffled shirt with black buttons, and a beautiful silver coat with black handkerchief in the upper pocket ... he finally asked, after about 14 songs, if we wanted to hear any more ... he then sang "Doin' The Best I Can" from G.I. Blues and his latest hit, "Surrender," and wound up with "Hound Dog" ...


Afternoon Show
This description, along with
Scotty Moore
's rough draft of the set list written after the sole rehearsal at Graceland on Friday, February 24, and reproduced in his autobiography,
That's Alright, Elvis
, allows a reconstruction of the afternoon performance:
Heartbreak Hotel
All Shook Up
(Now And Then There's) A Fool Such As I
I Got A Woman
Love Me
Such A Night
Reconsider Baby
I Need Your Love Tonight
That's All Right
Doin' The Best I Can
Don't Be Cruel
One Night
Are You Lonesome To-night?
It's Now Or Never
Surrender
Hound Dog
Evening Show
George Jessel
, often referred to as the nation's "Toastmaster General," introduced the singer at the evening show -- Mayor Loeb apparently handled matinée duties. Jessel amusingly dropped to his knees after praising Elvis as "one of the greatest singer/actors of this century."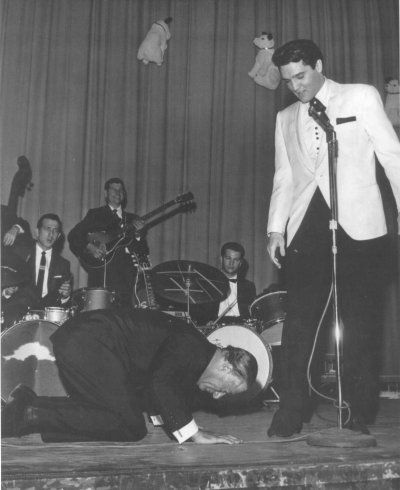 Evening Show
Pepper excitedly recounted his evening set observations in
The Tankcaster
, accidentally omitting the performance of the A-side of Sun 209 in the process! (rectified here):
Heartbreak Hotel
All Shook Up
(Now And Then There's) A Fool Such As I
I Got A Woman
Love Me
Such A Night
Reconsider Baby
Fever
I Need Your Love Tonight
That's All Right
Don't Be Cruel
One Night
Are You Lonesome To-night?
It's Now Or Never
Swing Down Sweet Chariot
Hound Dog
Gary noted that Elvis forgot some of the lyrics to "Don't Be Cruel," but ad-libbed to great effect. The sublime, sexy ballad "Fever" and jubilee gospel number "Swing Down Sweet Chariot" were apparently only done at the evening performance, while the "Special Teenage Matinée" had exclusives on "Doin' The Best I Can" from his recent Paramount film "G.I. Blues," and his latest chart-topper, the operatic "Surrender."
Pepper's fan magazine reviews emphasized how greatly the Memphis shows were marked by screaming fans, a hysteria Elvis often evoked, and sometimes consciously provoked, on his 1956-1957 tours. And as most fans are well aware, the March 25, 1961 live recording in Honolulu is no different! In some ways, these early 1961 concerts proved nothing had changed since Presley's return to civilian life, except that he had gotten
better
.
Also appearing at Ellis Auditorium were comedian
Brother Dave Gardner
, impressionist (and master of ceremonies)
Nip Nelson
, acrobats
The Ashtons & Shirley
, tap dancer
Frank Trent
, the
Jordanaires
, pianist
Floyd Cramer
, saxophonist
Boots Randolph
,
Larry Owens
(née
Muhoberac
)
and His Orchestra
, also called "the King's Men," and special guest
George Jessel
.
After the opening acts finished, and following a brief intermission, Scotty Moore, D.J. Fontana, Bob Moore, Boots Randolph, Floyd Cramer, the Jordanaires, and three members of Larry Owens and His Orchestra took their places on stage to back Elvis.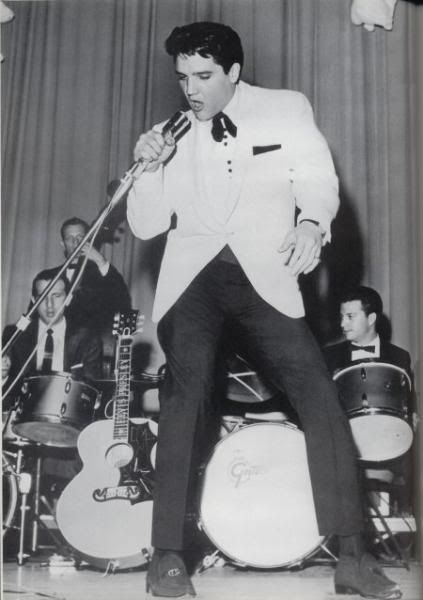 Evening Show
Despite claims to the contrary for years and years, Bob Moore (bass), Hank Garland (guitar) and Buddy Harman (drums)
did not
perform with Elvis at the 1961 Memphis shows. If anyone can name the three members from Larry Owens and the King's Men who filled in on stand-up bass, guitar and drums, please add that information here!
---
NOTE: this information has since been determined! The following is the latest update!!
These are the musicians who rocked Memphis, Tennessee on Saturday, February 25, 1961 ->
Elvis Presley - vocals, guitar
Scotty Moore - guitar
Brad Suggs - guitar
Bob Alexius - acoustic bass
D. J. Fontana - drums
Ron Capone - drums
Floyd Cramer - piano
Boots Randolph - saxophone
Jordanaires - backing vocals
Later, the
Memphis Commercial Appeal
would amusingly describe Elvis' stage work as "combining elements from Negro cotton field harmony, camp meeting fervor, Hollywood showmanship, beatnik nonchalance, and some of the manipulations of mass psychology." Overall, almost $52,000 was raised, with most of it distributed amongst twenty-six Memphis charities, with $3,700 specifically targeted for the Elvis Presley Youth Center in Tupelo.
After Presley's third astonishing 1961 gig, the U.S.S. Arizona benefit in Honolulu on March 25, preserved in 1980 on RCA's
Elvis Aron Presley
box set, such peerless artistry and commercial success, superb musicianship and stunning song selection, would never be repeated.
Although no tape of either Memphis set has ever surfaced, hope springs eternal.
---
1-18-2014:
Thanks to FECC member
onelove
, another Gary Pepper photo from the evening set:
L-R: Scotty Moore, Elvis, D.J. Fontana, Bob Alexius, Brad Suggs, Ron Capone, Gordon Stoker
You do not have the required permissions to view the files attached to this post.
Last edited by drjohncarpenter on Sun Jan 19, 2014 9:15 am, edited 7 times in total.