This is a Elvis debut in Chile. A July 1956 RCA single with The Laurie Sister on B side of the record:
The second chilean single from August 1956. Side B with Perry Como: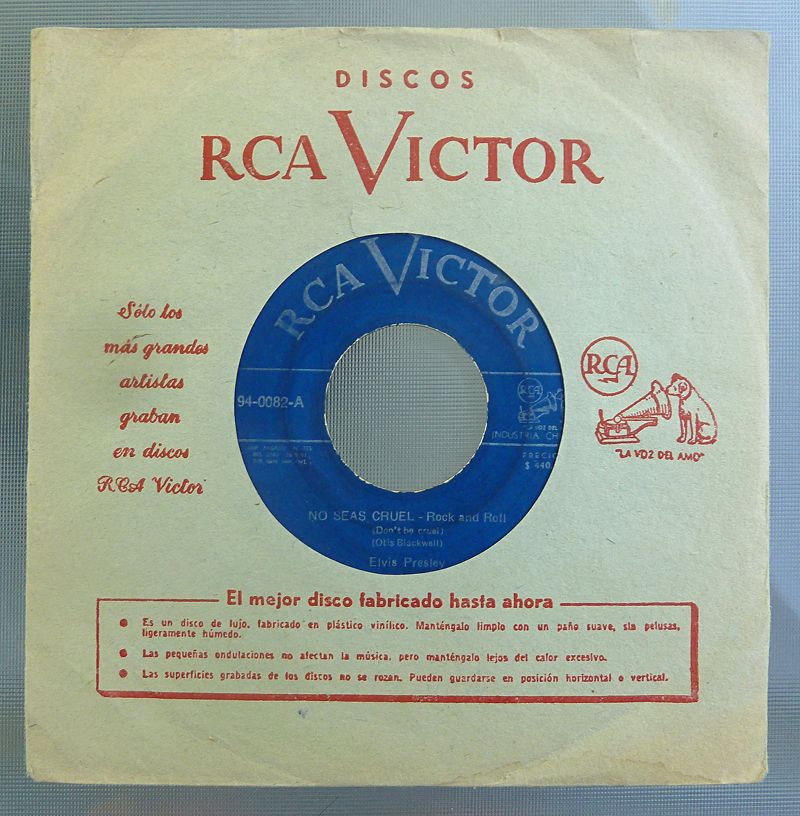 In September of 1956 the chilean RCA include this two separate singles on a one 78 R.PM.:
The next information is very important to understand who Presley debut in Chile.
My english are bad. If somebody can translate this can understand who start the chilean discography of Presley.
Los inicios de Presley en Chile:
Presley era un verdadero desconocido para comienzos de Junio de 1956. El primero en darle importancia fue un niño estudiante del Instituto Nacional quien en Junio de 1956 registro una emisión de los servicios informativos de ultramar en la que pasaron la canción "Heartbreak Hotel".
El nombre del muchacho era Juan Calvo (más tarde gerente de Hispavox) y fue a varias estaciones de radio de Santiago, Chile insistiendo que tenía "La última novedad en Música". Por su puesto que nadie le considero hasta que un Disck Jockey de radio Corporación transmitió su colaboración. La transmisión de "Heartbreak Hotel" causo tanto impacto que al momento de un segmento comercial no dejo de sonar el teléfono de la estación solicitando la repetición de la canción.
La grabación del pequeño también se difundió en otras estaciones logrando incluso ubicarse en los primeros lugares de sus rankings. La RCA chilena tuvo que tomar una decisión para finalmente editar a Elvis en el país.
En aquella época Don Roy era director artístico para RCA Víctor chilena, además músico de Jazz tenía un especial desinterés por la música de Presley. Para no correr riesgos RCA edito el primer single con "Hound Dog" de Presley en la cada A y The Laurie Sister en la B (Single RCA 94-0080 lanzado en Chile en Julio de 1956). Este fue el debut de Elvis en Chile.
Tras el éxito logrado con el primer single RCA Victor decidio lanzar un segundo single de Presley en Chile, pero nuevamente se negaron a editar un disco integro (ambos lados) con Elvis. Fue así que lanzaron el segundo single (RCA 94-0082) con Don't Be Cruel" en la cara A y Perry Como en la B.
La estrategia no estuvo del todo bien. Perry Como era un artista muy popular en Chile y fue a través de este single que muchísimos padres sin quererlo llevaron a casa a Presley para que lo conocieran sus hijos.
Last edited by Vintageman_42 on Fri Feb 01, 2013 1:11 am, edited 1 time in total.