JamesVRoy wrote:

Vintageman_42 wrote:

JamesVRoy wrote:

drjohncarpenter wrote:Is that Scotty's autograph on the photo?

Yes. He sent that to Ray years ago. That's one of the photos he used to sell autographed at shows before we put the site up. Ray died a few years ago. I met his daughter and grandson a few times, nice people. Someone was working on a book about Ray, Dave Kyle I think but I haven't heard on the status in awhile. Tim Masters, a guy I know in Florida has a lot of Ray's original tools and equipment and builds replicas on occasion but not as a business. I've got two university speakers, one from Tim, sitting in a corner of a room that I've been threatening to build cabinets for for a few years but haven't yet. I had another but gave it to Jim Elyea at History for Hire to put in the amp they built for the CBS Elvis miniseries movie. Deke Dickerson has one the one that was given to Gretsch by Ray when they were going to build a version and then he later bought Scotty's backup echosonic. He had them at History for Hire once and they sent me a picture of the three of them together. I'll have to dig that up.

I could'nt find that pic yet but I found this one, me about 10 years ago at Scotty's

OK, I found them and added them to this page. Been meaning to do that for awhile but forgot.

http://scottymoore.net/tributetoray.html#3AMPS

Very interesting James.

I saw the label inside the cabinet of Scotty EchoSonic amp.

The manufacturer original Tube layout configuration is change. I think Scotty replace the original tube setup for low gain 12 family tubes. 12AY7 tube have 40% gain factor, the original 12AX7 for this amp have 100% gain factor.

In my amp i make similar, i use in V1 a 5751 tube. This tube have 70% of gain factor. More clean sound, the amp break later compared if you use a 12AX7 tube.

This are very important configuration in the final guitar-amp sound.

Regards.

Scotty said Ray was very secretive and intentionally mislabeled the charts. He used to take it back to Ray for any mods or repairs. He had Burris amps go through it before he sold it after Ray died to get it ship shape. I can pull guitars apart and put them back together all day long but I'm not that adept on amp circuitry and technology to want to even open the back of one except to replace a tube and in that case its more of what comes out goes back in. It you want to talk those kind of details you should hunt down Tim Masters.
For some reason the original tube models in this Scotty amp change . I don't know if Scotty made this or another people. Someone stripped the original tubes layout label and wrotte another family tubes equivalent which we replaced. Not speak of a circuit modification, only a different tube settings.
The label sample a custom setup for this amp, not a original manufacturer tube setup.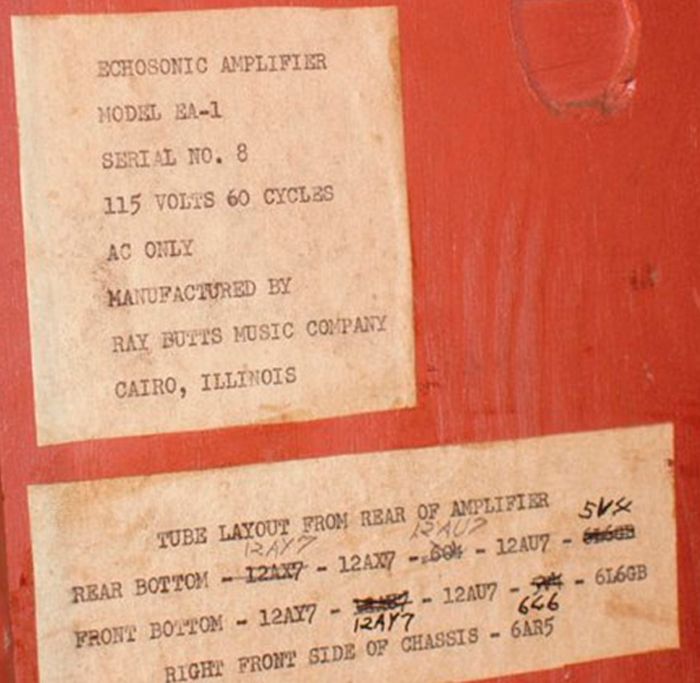 Many guitarist don't use the manufacturer tube setup, me for example.
Depending what kind of tube you use have a different gain factor, different sound, more hot to Rock or more sweet and quiet for blues or Jazz. Do not try to change the original for any of the other tubes on the market. These should be of the same family tube as specified by the manufacturer for the equipment.
For example, the 12AX7 can replaced for 12AY7 (how shows the Scotty amp tube label), 12AT7, 12AU7 or 5751 tube. The 12AX7 have 100% gain factor, if you play rock run well, but if you play early rockabilly or blues or more quiet music you can change for a 12AY7 or 5751 tubes (70% gain factor). More vintage clean sound and the amp break later.
Regards