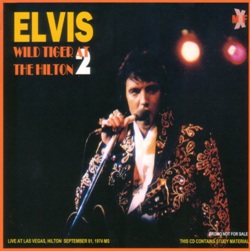 I'm not sure where to start here. The sound is very good on this recording. If all audience recordings sounded this good, I would be satisfied. Very clear and every word Elvis speaks is easily understood.....unfortunately. This show is a preview of what was to happen the following night. He was already telling God to damn the necks that he was about to break. He is rambling a mile a minute and trying way too hard to over-sing many of the songs that were dramatic enough as is. This has to be one of the worst (if not the worst) versions of
An American Trilogy
that I have ever heard. The reprise of
Bridge Over Troubled Water
that some here have praised in another thread made me long for the Greensboro '72 version. He admitted to doing the reprise because he got lost the first time (he completely butchered it).
Bridge Over Troubled Water
may very well be my favorite song that Elvis ever performed on stage. However, on this night, I could have done without it. His constant rambling made me appreciate the 1972 Vegas shows even more. He talked of the rumors about him being "strung out." He fooled his audience into thinking that he would have never received a federal narcotics badge if he had ever been "strung out." He also told them that he would never have received his eighth-degree black belt if he had been "strung out." They just don't give such honors to people like that. He talked about everyone in his entourage that was studying the art of karate. Dave, Red, Sonny, Jerry, Ronnie, and talked about Ed Parker. He told of how John O'Grady was the ultimate "Super Fly." He also made the claim that Batman and Robin were Mickey Mouse compared to O'Grady. I'm not convinced there, because I've seen Batman kick too many asses.
Man, I love Elvis as much as anyone here. I just wish he would have slowed things down and concentrated on giving his paying audience a more professional show. There were some good moments. He performed
It's Midnight
,
It's Now Or Never
and
Softly As I Leave You
very well. He received a tremendous ovation for the job that he and Sherrill did on the latter.
I am glad that this is in my collection because I want all of the shows that I can get. I will revisit it someday. However, it is nowhere near the level of professionalism as the 1972 Vegas show just released by FTD. If you do collect audience recordings as I do, this one is definitely not for everyone.
But, hey -- the sound is great!