This may be common knowledge, but it was an unpleasant surprise to me...
For the last three years I've lived under the impression that the 10 photo Leech set (one of which is below) was indeed from July 17th in New Haven. On my copies the photos are dated on the back as Springfield July 15, which is clearly wrong.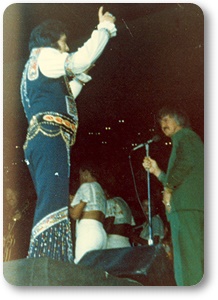 I now believe that this set is actually from Asheville July 24. Here are the pieces of evidence I've been able to uncover:
1.
Look at the railings in the background: on the left you can see white railings and a blue curtain below them, whereas on the right (and this one is from New Haven July 16) the railings are black, they're lower relative to the stage and there doesn't seem to be any curtain below them. The left hand photo belongs to the Leech set I thought was from July 17, but now the background looks awfully similar to that in July 24th photos:
2.
Another photo in that Leech set is of Elvis introducing Vernon:
This photo turned up at eBay recently: in it Vernon wears the exact same clothes.
Additionally the background singer attire and the stools they're using place the above shot into Asheville.
Conclusion:
The Leech set dated for New Haven July 17 is actually from Asheville July 24. But now I do not know of ANY photos that would have been taken in New Haven on July 17. Do you? Or am I totally wrong here?