bluejeans1944 wrote:Here is a new Ebay listing for an original Elvis with Nick Adams photo at Audubon Drive in Memphis. Thought some may be interested in this.

Bradley Tierney From the eBay description: "E.P. AT HOME W/NICK ADAMS IN BACKGROUND DECEMBER 1956.. 1034 AUDUBON DRIVE @MEMPHIS TENNESSEE APROX. 3 1/2 X 5 INCL. BORDER B/W GLOSSY SNAPSHOT...OLD PHOTO NOT A NEW COPY..BACK IS STAMPED WITH OLD KODAK VELOX PAPER..56 YEAR OLD PHOTO DEVELOPED AND DATE STAMPED TOP BORDER MARCH 1958..SLIGHT DISCOLORATION TOP BORDER..BACK NOT AS YELLOW AS SCAN SHOWS."


Neat find. Here's the eBay page link:
http://www.ebay.com/itm/ELVIS-PRESLEY-NICK-ADAMS-AUDUBON-DR-MEMPHIS-TN-1956-KODAK-VELOX-56-YR-OLD-PHOTO-/121284826372
Although the seller claim is "never published," I posted it on FECC in September 2010, and someone noted it had been up on eBay by the original photographer,
Steve Benson
. Also, it's not from 1958.
Elvis Greets The Fans --> Audubon House, November 1956
http://www.elvis-collectors.com/forum/viewtopic.php?f=8&t=56106&p=816835
Here's the copy on my topic, it's better quality, and less cropped: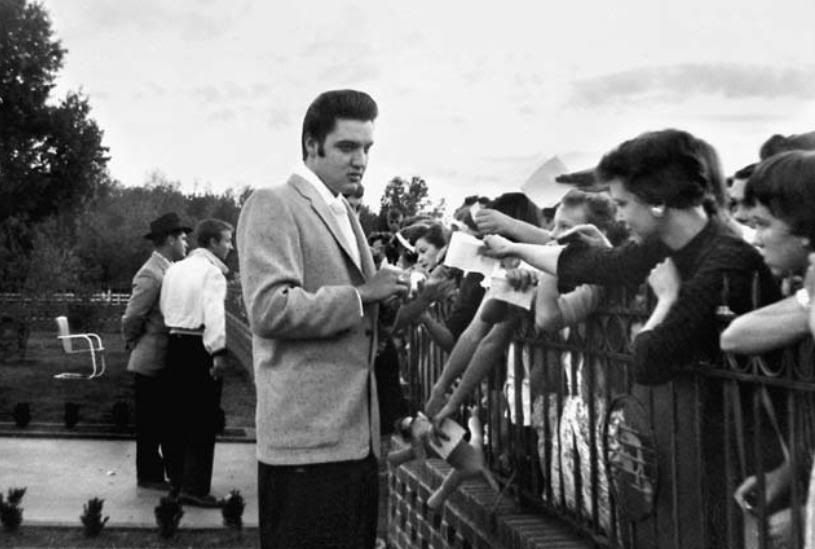 Elvis, with friend Nick Adams, Greets Fans at the fence, 1034 Audubon, Memphis (Nov 1956)
Photographer:

Steve Benson
You do not have the required permissions to view the files attached to this post.