A bit of a mystery date this, as we don't have a recording (audience or otherwise) from this show. So I thought it appropriate to add a few shots from that night here.
We're at the tail end of the June-July 1973 tour, as there would only be one more show at Atlanta. Originally the tour was scheduled to end in Oklahoma City, but due to popular demand 3 extra Atlanta shows were added later, July 3 show being one of them. At Oklahoma City Elvis appeared at the newly constructed Myriad Center (today Cox Convention Center).
I suppose he arrived directly from Nashville the night before to which ever hotel he was staying at in Oklahoma City. Having spent the day there, he left the hotel for his 8.30 PM show at the Myriad to face the "record-breaking" crowd of 15400, accompanied by his usual entourage.
The song listing for this night's show is unknown: it's safe to assume that the concert started with C.C. Rider and I Got a Woman and ended with Can't Help Falling in Love.
From the review we know that he also sang How Great Thou Art this night.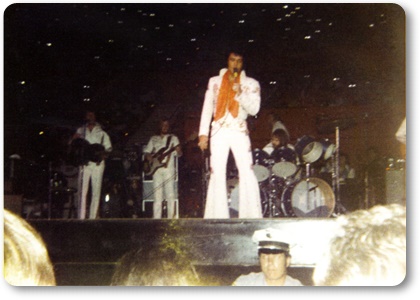 There are relatively few photos from this show in circulation, but this is not the worst date as far as the number of shots is concerned. Of the known photographers at least Sean Shaver was in attendance.
Also, local press photographers Mel Root and Roger Artman snapped photos from what looks like the balcony.
A German roadie by the name of Jurgen Mayer also took some photos this night. This was the only tour he took part in.
The show was reviewed in the local Daily Oklahoman the next day. The other local paper, Oklahoma Journal, only printed a photo from this concert on its front page.
The Presley voice is still excellent. He uses it much better than he did in his younger days. The 38-year-old singer wowed the audience with some new songs and completely captivated them with a medley of his old hits. One of the best numbers was the gospel song How Great Thou Art, on which he was joined by a good quartet of male voices. The band backing Elvis was marvelous. His arrangements are outstanding.
The concert ended in "pandemonium and standing ovation" - that can partly be witnessed in this Youtube clip:
Although I have a few shots from this night - I'd welcome more. For example, I'm sure Shaver shot more than the handful I've seen. And where are the rest of the photos taken by the local press?
So, if anyone can add any (pertinent) info/photos here, please do so!