It's not from 1956.
According to his recent autobiography,
Elvis: My Best Man: Radio Days, Rock 'n' Roll Nights, and My Lifelong Friendship with Elvis Presley

, (New York: Random House, Inc., 2010)
, George made his first visit to 1034 Audubon in
March 1957
.
His book with co-author Chuck Crisafulli tells the story of how he had just been fired from his afternoon DJ shift, "George Klein's Rock 'n' Roll Ballroom" for WMC Radio in Memphis; they told him rock 'n' roll was a fad soon to die out. Klein next ran into Elvis while hanging out at Dewey Phillips' WHBQ Radio show, broadcast from the Chisca Hotel.
Elvis "had just gotten back to town from making
Loving You.
" Presley hired him on the spot as a "traveling companion," speaking of a "big tour" coming the very "next week," and going to Hollywood after that. Then, after cruising the city in Elvis' white Mark II Continental and grabbing some sodas at the Variety Club, Presley invited Klein back to his house to hang out some more. There is no indication Klein had ever visited the home before, and he goes into great detail about the Audubon house, and a visit a few days later to Graceland, the property recently purchased by Elvis.
---
George was definitely hanging with Elvis at this time. He is photographed accompanying him on his tour which began on March 30, and would be seen around -- and in -- MGM's "Jailhouse Rock" project beginning at the end of April. Not long ago,
bripet56
posted this Memphis newspaper story from late March 1957:
The photos might have been taken to keep George's name alive in the public mind. His radio audience might have wanted to know what he was doing since he'd lost his slot on the air. And one reason George and Elvis might have been posing with LPM 1382 was the fact that it was still a chart-topper five months after release, holding down #2 as recently at March 16, 1957, and Klein had probably plugged it quite a bit in Memphis: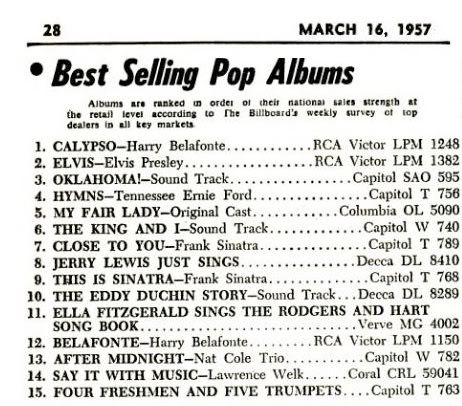 Billboard

- March 16, 1957
As for Klein's 2010 photo credit, what now seems most likely is George created a story to match the photo printed in his book.
Here are two more from this March 1957 photo session with Elvis: