TIGERMAN-GB
-- these are not "some Geisha girls," they are successful Japanese actresses visiting the set of "King Creole."
Can you edit your Subject line?
Hideko Takamine
made an appearance on the January 26, 1958
Ed Sullivan
program, and it's likely she and her colleagues toured Hollywood not long after.
A kinescope of the entire show reveals some other interesting guests that night, including
Jimmie Rodgers
singing "Oh-Oh, I'm Falling in Love Again," and some act named
Buddy Holly & the Crickets
performing "Oh Boy" near the end of the broadcast.
Here's a rundown of these lovely actresses meeting Presley ->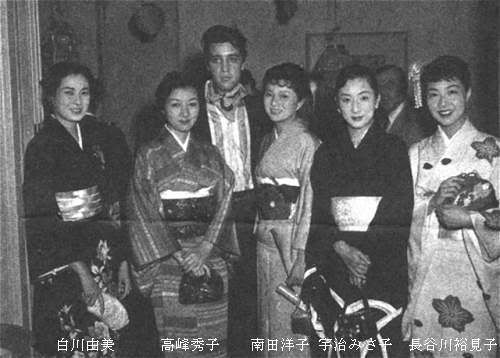 Yumi Shirakawa, Hideko Takamine,

Elvis

, Yoko Minamida, Misako Uji and Yumiko Hasegawa


Meeting on the set of Paramount's "King Creole," Jan 1958
Last edited by drjohncarpenter on Sat Jul 24, 2010 9:08 pm, edited 1 time in total.