Great to have you on board
Brian
. It is an unusual photo.
Do you agree it may be circa Sep '57? If so, that would eliminate
Arthur Hooten
, he wasn't around then, was he?
It still looks like
D. J. Fontana
,
Gene Smith
and
Elvis
in the front. And there are others in the back.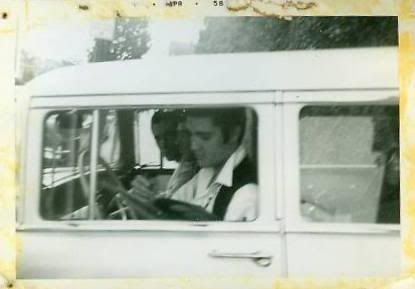 Given the angle of the car, and what we see in the background, could this have been taken as Elvis was driving out of Graceland? Again, seeing
D. J.
in the car, it would fit with the late September, Tupelo benefit time frame. There just aren't than many photos like that. And in the other tours that year, IIRC,
Elvis
travelled separately from the band.