And here's the rest, from the same book:
"Elvis kept insisting he wanted to do something nice for "Mr. Bellman," and finally Eddie - insisting Elvis call him "Eddie" - came up with the idea of Elvis making a personal appearance at his downtown Biloxi shoe store. "
I'd be happy to, Mr. Bellman, I mean, Eddie, just let me know when." "I'll talk to my partners, Elvis. How about tomorrow?" "Sounds good to me, Mr.... er, Eddie. I don't have any other plans.
"
On Wednesday afternoon, August 1, Elvis did a promotional appearance at David's store, so the above conversation are from July 31. And here's a photo from July 31 (the footage can be found on DVD "Elvis and June: A Love Story", July 2002):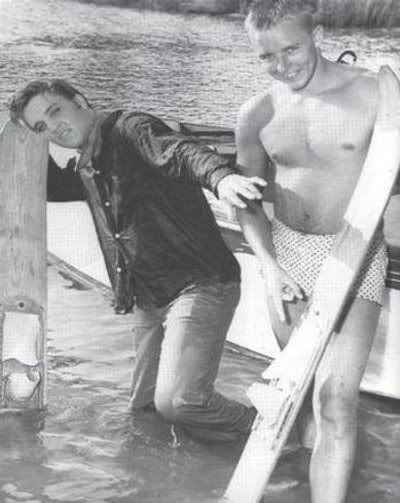 The background and the guy from July 31 photo are the same like photo #2, so both photos, #1 and #2 are from Biloxi, July 1956. I don't know the exact date, but must be before the July 12 fishing trip, when Elvis get the sunburns. "Elvis complained about his beet-red sunburn and didn't want to pose for pictures. " (from 'The Atomic Powered Singer" by Brian Petersen)