While I was looking through some pictures concerning this tour I came across a slight problem which, I'm sure, has an obvious solution, and it may even be old news, but it still bugs me...
My main worry is the Houston June 5th show:
On Francesc's site there three pics credited to this show, one of which is here: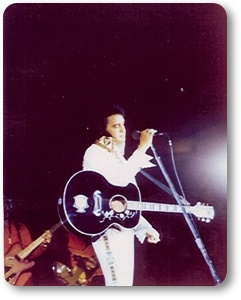 But then there are the pics from Rocking in Texas book:
Now isn't that two different belts??
This outfit was also worn in Shreveport, as shown in Chris Brown's book:
Recently I came across yet another photo with the same outfit, and with the musicians in white:
And now some dates, please people! At least some are dated wrong. And while we're talking this tour, aren't there really any good photos from Tuscaloosa, June 3rd??