I hadn't listened to this concert for the longest time, but last night I did. I was pleasantly surprised by the overall nice quality of both sound and show (at least up to introductions).
Another thing that I didn't remember was that this nice moment was captured on tape: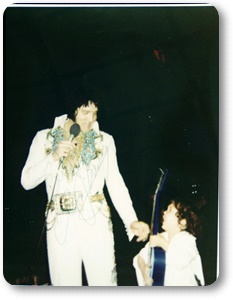 It takes place during
Love Me Tender
, of all things. Elvis laughs several times, and in the middle of the song says "Do your thing, son, do your thing." At the end he says laughingly: "Hey kid, you take over!"
All of this hadn't made much sense to me before, but now I wish we also had video of this moment.
The episode starts at about 1.20