Cass Elliot began a run with Allen at the Flamingo on Thursday, Feb 22, 1973. She was apparently at Presley's closing show the next evening.
It's quite possible Elvis invited them all back to his suite.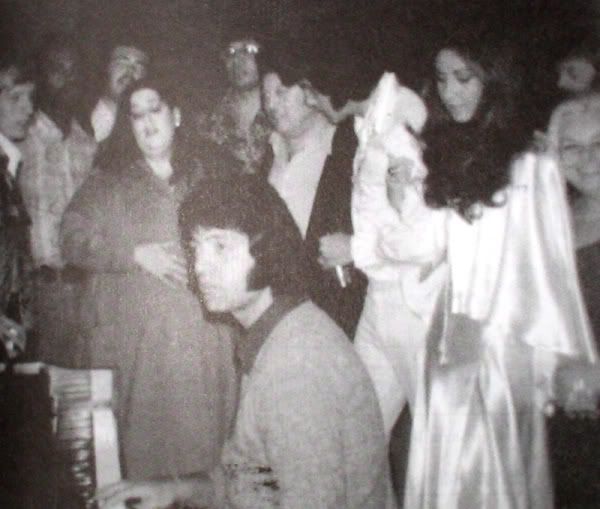 Gospel Jam, Elvis' Hilton suite, Las Vegas, NV - Friday, February 23, 1973

L-R: Terry Blackwood, Sherman Andrus, Jim Murray, Cass Elliot, Joe Moscheo, Armond Morales, Marty Allen, Elvis, Linda Thompson, Red West, Lorraine Allen
This 1973 candid is interesting on many levels.
It's the last time Elvis was slim and trim, although he was undergoing some major personal problems, sadly detailed four years later in
Elvis - What Happened?
(1977). Not many photos of Elvis' private, in-suite jams have ever surfaced.
The assembled are obviously singing gospel, and it appears all of the current members of the Imperials are there. Since the quintet had left Elvis' employ after the summer 1971 season in Las Vegas (September 6, 1971, to be exact), they had to have been in town with another singer -- perhaps Jimmy Dean had a booking in the area at that time.
Note that the African-American man in the picture is Sherman Andrus, who replaced Imperial Greg Gordon in early 1972 -- a VERY controversial move in the conservative-minded gospel field.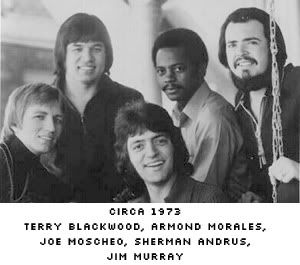 Last edited by drjohncarpenter on Sat Jul 24, 2010 1:13 am, edited 1 time in total.