I'm pretty sure those are backstage at a gospel convention at Memphis' Ellis Auditorium in early December 1970.
Those are members of the Blackwood Brothers Quartet, a group he had adored since his teen years.
This image is more well-known from that evening ->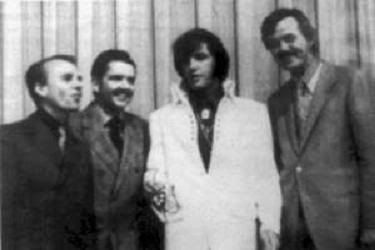 (L-R) James Blackwood, Hovie Lister (Statesmen Quartet), Elvis, J.D. Sumner
All four of these wonderful singers are gone now.
It's quite possible that such visits made Elvis' selection of J.D. and the Stamps to replace the Imperials Quartet a year later were in part based on these pleasant outings.