Sat Jul 21, 2007 7:32 pm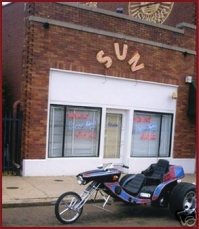 Sat Jul 21, 2007 10:07 pm
I'd love to think that's a genune pic. I like the idea of Elvis stopping by Sun records in the last few months, reminiscing etc.
Sun Jul 22, 2007 2:21 pm
So would I,DarryMac
much like his LAST visit to Tupelo, hey stranger things have happened!
Tue Jul 31, 2007 5:09 am
The topic title should be "Elvis' Three-Wheeled Motorcycle at SUN."

706 Union did not look like that, circa 1975-77.

Elvis would have had no reason to visit the place at that time anyway.

Around the corner -- at the "new" building on Madison -- maybe, but not SUN Studios.
Tue Jul 31, 2007 6:19 am
Hey ! This is a joke !! A DREAM !!!

This is a tourist' trike !! I only dream'in !
Tue Jul 31, 2007 6:33 am
We know, alstrada
!