Tue Jun 27, 2006 2:28 pm
Hi
Can someone help me on this one ? It would be from hampton Roads july 31st 1976. I found it on the pieterpix site but it seems very strange . And that buck in elvis'hand????!!!!! Fake or not ?
Tue Jun 27, 2006 4:03 pm
As far as I know it's not fake and the date is correct.
Elvis suffered some kind of infection in Hampton and both the soundboard recording and this pic show there was something wrong...

Cheers, RJ
Tue Jun 27, 2006 4:08 pm
When did SUN merchandise hit the market?
I am refering to Joe's shirt.
Tue Jun 27, 2006 4:44 pm
This pic was from a couple of days before and he's got that same "wax figure" look going on in the eyes.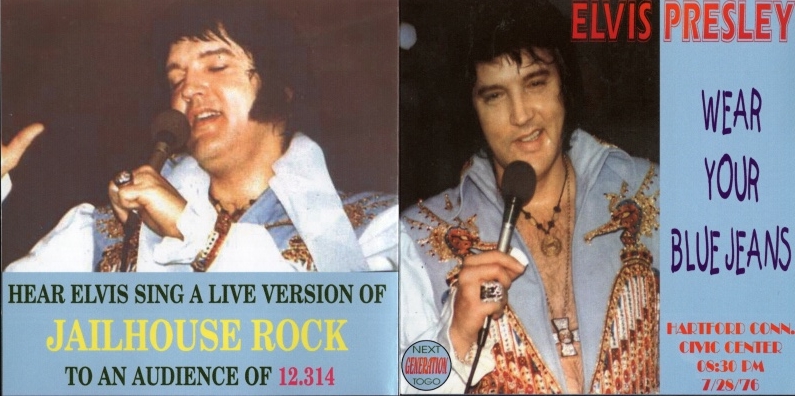 Tue Jun 27, 2006 4:55 pm
ok thanks!
The question about the Sun T-shirt is interesting .....That's one of the things that made me think it was a fake......
Wed Jun 28, 2006 4:39 am
I don't think that is Joe Esposito either.

The photo almost looks fake. It looks like somebody "photo-shopped" their-self into a photo of Elvis.

RKS
Wed Jun 28, 2006 5:43 am
You can really see the effects of Elvis' recent eye surgery in these photos. He looks a lot more normal. And the leap from "Elvis" to "normal" is quite something.
Wed Jun 28, 2006 9:24 am
This pic was discussed in some detail on an earlier thread. I can't remember the thread title or I'd run a search. I recall though that it was proved to be a fake.
Wed Jun 28, 2006 11:14 am
Yes it's a fake. The guy in the picture is Billy Poore, a very small-time record producer / promoter who claims to have been friends with Elvis for years and that he visited him at Graceland on numerous occasions. In reality he's a dreamer and a loser. Just about everything he's ever tried his hand at in the music business has failed dramatically. He faked this photo a few years ago for a book he put out on the history of rockabilly.

Forget about it.
Wed Jun 28, 2006 1:18 pm
thanks a lot !!!
Mon Jul 03, 2006 8:08 pm
Mon Jul 03, 2006 8:41 pm
Great addition to this thread Swedish. Finally the picture in better quality. I'd also like to apologize to Billy Poore for thinking he was Joe E. But I bet he wouldn't have minded the Diamond nickname.