Tue Oct 25, 2005 6:23 pm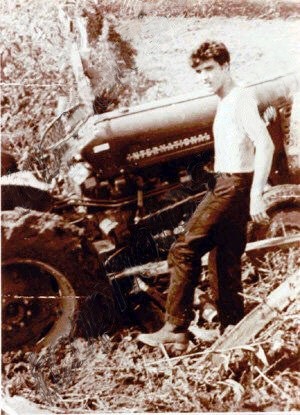 Neat shot! Any more information, gents?
Tue Oct 25, 2005 6:45 pm
New one on me Greg!
As for Elvis, he looks like he did in the Jailhouse Rock 'chain gang' scene. Outtake??
Tue Oct 25, 2005 6:46 pm
Scratch that the hair's too long!
Tue Oct 25, 2005 9:16 pm
nice
Tue Oct 25, 2005 9:45 pm
This is a new one for me!
Wed Oct 26, 2005 3:11 am
I think it's the Jailhouse Rock period though. His hair isn't totally natural in that film - seems to be curled/waved a little. Same goes for that shot.
Wed Oct 26, 2005 8:35 am
It looks like him, but are you sure it's actually Elvis?
Wed Oct 26, 2005 6:54 pm
This is a great photo, i believe i seen this some years ago in THE MAN & HIS MUSIC[1996] I believe GLEN JOHNSON owns it, it was going to be used in his book but it was dropped, Again thanks for sharing it.
Thu Oct 27, 2005 3:45 pm
this pic had to be taken around '57 when he bought graceland, and making/made of jailhouse rock . I know of one other photo of him and a tractor when he was tearing down the small house in the back of graceland
is he doing the same in this one?
Elton
Fri Oct 28, 2005 12:44 pm
Hi all!

As has already been mentioned here the pic is probably from when Elvis filmed "Jailhouse Rock." The trousers looks like the ones Elvis wear when he is shuffeling coal in the jailyard. And the hair is definitely from "Jailhouse Rock"

The morning after Elvis got back from Hollywood he was out riding on his very own International 300 tractor which was one of his favourite vehicles for riding around on the ground

Sincerely
Brian Petersen
Fri Oct 28, 2005 2:28 pm
The pic could be on the set of Jailhouse Rock, it looks to be from that time.

Perhaps a rehearsal or run-through of the coal-shovelling scene or a deleted jail scene.

Elvis could be in costume, but not had his hair 'shortened' by the make-up girls [yet].