Very good post, Doc!
You sure were inspired.
And I just love these early years/lost recordings topics! It makes us think.
drjohncarpenter wrote:The 1954 recording of "Tiger Man" probably presaged what Sam caught on tape a year later with their incandescent rendition of "Mystery Train."
I agree, but there's some inconsistencies about the "Tiger Man" beign recorded at SUN and/or released:
Sam encouraged Elvis to do uptempo songs for single releases, and wasn't too impressed with slow songs Elvis loved so much. Quoting the liner notes from the Platinum CD box-set of "Blue Moon":
Why did Phillips let Elvis record songs like this

(Blue Moon)

and "Tomorrow Night" without any intention of releasing them? He said he didn't have the heart to tell Elvis to stop.
I find it very strange that Sam would have taped-over the recording of "Tiger Man," a cool uptempo song, like the ones he wanted Elvis to record... but kept (all or most all) takes of "Harbor Ligths," "I Love You Because," Blue Moon" and the unfinished master of "Tomorrow Night" on tape, this doesn't make much sense to me.
If Elvis indeed recorded a version of "Tiger Man" at SUN, then it must be a one take version and the tape was lost/stolen/misplaced/distroyed/whatever... but the fact that it wasn't even acquired by RCA (they even got that short, one take of "Satisfied") is kinda suspicious... and in the case where they didn't get the tapes, they had the singles releases to make a dub of it.
ekenee wrote:And its worth noting that Elvis doesn't make any mention of this Sun recording during
the 1968 rehearsal or the actual taping of the show.
Strange, because Steve Binder encouraged Elvis to talk and tell stories about his
good old days. It's funny he didn't mention anything, he just launched into it
with all his might.
This caught my attention too... In the case of "Tiger Man," he just started singing it, jamming à-la "Baby, What You Wat Me To Do?," with no explanation whatsoever... and the quote "There's no ending to this song" (or something like that) makes me think of two possibilities: a) He was just jamming with a song he liked and probably played at home, so it really has no end prepared to it, he just stop playing it... or b) If he recorded that song at SUN, the end had a fade out to it, à-la "Mystery Train."
It's also strange that Elvis' wasn't documented singing "Tiger Man" live in the '50s, specially between 1954 and 1955, when he needed some uptempo songs to include to the few songs in his catalogue back then...
He included songs such as "Tweedle Dee" ad "Maybellene" to increase his live repertoire, yet "Tiger Man," a cool, uptempo song he allegedly recorded or at least rehearsed wasn't even mentioned... until 1970 (and unheard until 1968.)!
One could say Sam maybe released a test single of "Tiger Man" to see people's response to it, as he did with "My Baby's Gone" ("I'm Left, You're Right, She's Gone" - Slow Version), but then they only re-did the song on a faster pace, just because of that... Sam wanted uptempo songs, where people would feel and live the rhythm... in the case of "Tiger Man" it's exactly that, pure rhythm and fun, the lyrics weren't even important here, so why make a just test disc of a song Sam would clearly release as a single? I can only think a very poor mediocre rendition... but with Elvis and the Blue Moon Boys at SUN, they couldn't go wrong on uptempo songs, even on harder tracks as "Milkcow Blues Boogie."
So, the only evidence we have are Elvis comments at the end of August, 1970 (never before and never after)...
But he we would consider that "evidence," then "Cattle Call" was his his biggest hit... and also his last one too...
Or his black-and-white Disney underground documental is still missing...
The only thing we have to figure is why he said it so serious... but in is "Life Story" monologue he repeated night after night that he went to SUN records to make a record for his own use, and then "the guy" called him about a year and a half later and put the record out! And Elvis is talking seriously there too, so we could have also asumed his first "commercial" record was "My Happiness..."
Yet the "not too many people heard it" sentence makes me think he was maybe using some kind of serious humor in it...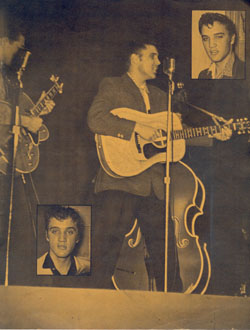 Only time will tell... hopefully
...oh, and all of this is IMHO