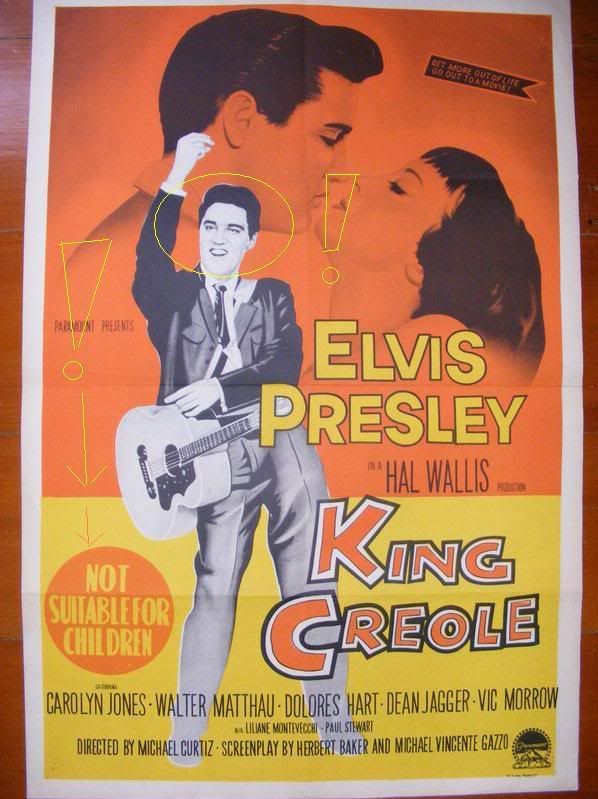 Did you know that Elvis' great recording of "Crawfish," from the "King Creole" soundtrack, was issued on single by another RCA artist in the summer of 1958?
It was by
The Stone Crushers
, and the label on the 45 cheekily implied the recording was included in the Paramount film.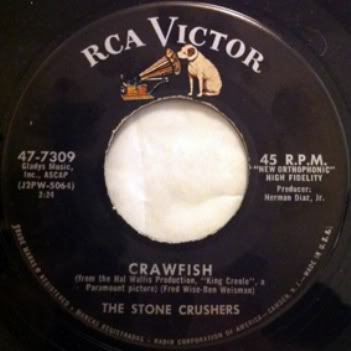 The Stone Crushers was led by legendary songwriter, arranger and bandleader, Jesse Stone, and the RCA single was a mostly-instrumental re-do of the classic Presley master.
The A-side was not a hit, but the B-side, "Tadpole Wiggle," did make the charts on WBNY Radio in Buffalo, New York in August 1958.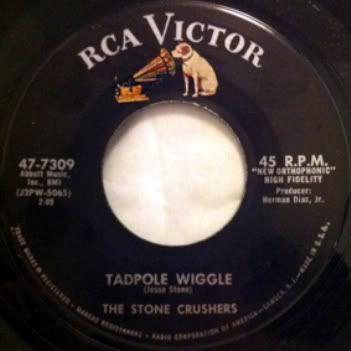 Although "Crawfish" was credited to songwriters Fred Wise and Ben Wiseman, it seems likely Jesse Stone played a hand in the creation of the song, albeit anonymously.
Did Elvis ever hear it? Who knows?
King Creole (BMG, 1997)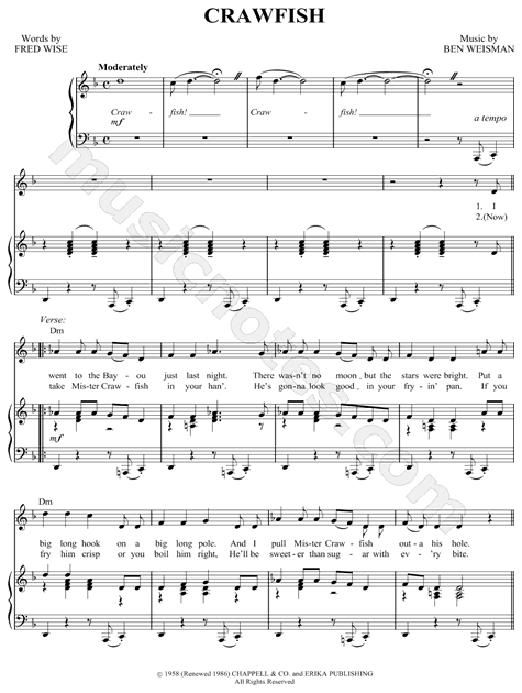 "Crawfish" sheet music, 1958
Essential Elvis, Volume 3 - Hits Like Never Before (RCA, 1990)
I found a lot more information online, including mp3s of the single, and it's all below.
Enjoy!
Crawfish, Crawfi-i-i-ish

mp3: The Stone Crushers - Crawfish mp3: The Stone Crushers - Tadpole Wiggle

After chasing this 45 for some time, I'm tickled pink to have finally caught it. It goes something like this: In 1958, Elvis Presley starred in the movie King Creole, set in New Orleans. In it, in duet with Kitty White, he sings an ode to the humble Crawfish – which is a lot steamier than it sounds. Musician and songwriter Jesse Stone, who wrote such hits as Shake, Rattle & Roll and Money Honey – both of which Elvis recorded – must've played some part in The King's version of Crawfish. I suspect he was the arranger or band leader or both. Under the name The Stone Crushers, Stone released another version.

What stands out about his own arrangement, and what made me need it so, is that it's much, much rhythmically heavier. Although there's some backing vocals, it's basically an instrumental. A sleazy saxophone takes on the lead role and the tune doesn't lose any heat whatsoever. The record's label indicates that The Stone Crushers' recording is also featured in King Creole. I have it, but my DVD player's broken, so if anyone can verify that point, I'm sure we will all rest slightly easier.

http://diddywah.blogspot.com/2010/11/crawfish-crawfi-i-i-ish.html
The A-side, "Crawfish," is also up on YouTube:
.
.
And one may also enjoy both tracks on this excellent compilation:
Jesse Stone Alias Charles "Chuck" Calhoun (Bear Family, 1996)

30 orig. RCA, US Decca & Atlantic recordings including "An Ace In The Hole", "Mister Jelly Fingers", "Hey Sister Lucy", "The Donkey & The Elephant" (tracks from 1947-58).

Jesse Stone wrote some brilliant and enduring songs -- "Shake, Rattle and Roll," "Good Golly Miss Molly," "Lipstick, Powder and Paint" -- and has been inducted into the Rhythm & Blues Hall of Fame, but his name is generally unknown except to historians and collectors.

Jesse Stone Alias Charles "Chuck" Calhoun documents the recording career of this talented songwriter, bandleader, and music industry figure, spanning the years 1949-1958 and following Stone's evolution through a variety of musical styles. Stone's late-'40s recordings, which comprise half the set, are jazzy vocal numbers with a pronounced novelty streak. Then there is an odd pop single from 1954 and a few vocal R&B cuts from 1955 that are the highlights of the set (even though Stone's vocals are merely adequate).

The remaining tracks are mostly instrumental R&B/rock & roll sides. The original records were credited variously to Jesse Stone, the Stone Crushers, and Chuck Calhoun & the Atlantic All Stars, and were released on several different labels. There are many fascinating trivia facts and tidbits to be gleaned from the package, but it is primarily of historical rather than musical interest. ~ Greg Adams

Personnel: Jesse Stone (vocals, piano); Millie Bosman (vocals); Mickey Baker (guitar); Everett Barksdale, Wally Richardson (electric guitar); Eddie "Lockjaw" Davis , B. Bairbay (saxophone); Al Sears (alto saxophone, tenor saxophone); Dave McRae (alto saxophone, baritone saxophone); Sam "The Man" Taylor (alto saxophone); Bud Johnson, Hal Singer (tenor saxophone); Chris Griffen, Money Johnson, Nathaniel Williams, Pee Wee Erwin, Taft Jordan (trumpet); Lawrence Brown (trombone); Al Williams, Ernie Hayes, Bert Keyes (piano); David "Panama" Francis, Joseph "Kaiser" Marshall (drums); Walter Spriggs (bongos).

http://www.cduniverse.com/search/xx/music/pid/1051561/a/Jesse+Stone+Alias+Charles+%22Chuck%22+Calhoun.htm
Inspired by a post on another topic from member

Bob

-

Holland

.