"Why Me, Lord" and "Help Me" were great favorites of Elvis' on the concert stage, starting in January 1974.
But how many Presley fans know the gorgeous, original, "Why Me," by singer-songwriter Kris Kristofferson?
.
.
Kris Kristofferson - "Why Me" b/w "Help Me" (Monument 8571, Mar '73)
Kris scored a huge hit in 1973 (#16 Pop, #1 Country) with "Why Me," his Monument 45 hanging on the pop charts for
38 weeks
. The B-side was "Help Me," written by Larry Gatlin, Kris' first-ever cover.
This single should probably be called the most influential on Elvis in his last years
, as both sides became mainstays in his set list until the end, especially "Help Me." Obviously, these tracks were very close to our hero's innermost feelings. Whereas the Kristofferson hit for Sammi Smith, "Help Me Make It Through The Night," appeared on many 1973 play lists, it's clear these two other Kristofferson numbers took their place the following year, starting with Presley's 1974 January-February engagement at the Las Vegas Hilton.
"Why Me" had crossover appeal, and it was the first song to be nominated for major Country
and
Gospel awards: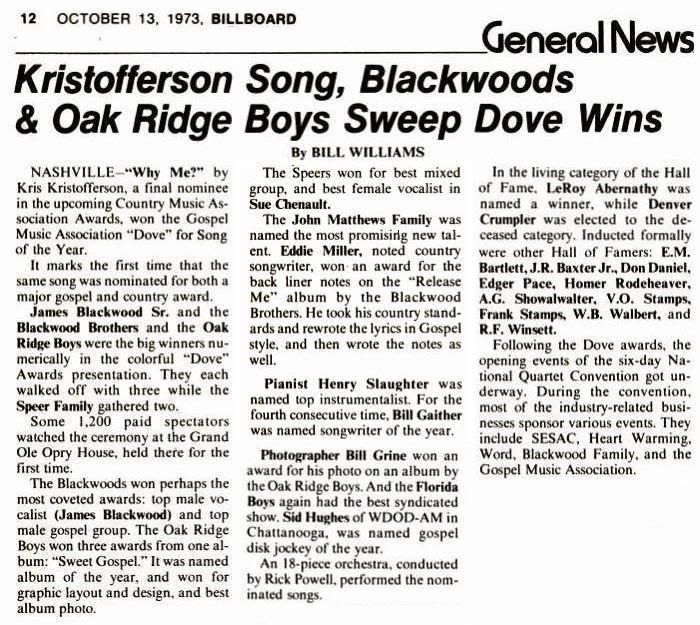 Billboard - Oct 13, 1973
Both "Why Me" and "Help Me"
debuted
on Kris' fourth LP in November 1972.
Jesus Was a Capricorn
would stay on the pop album charts for
42 weeks
!
Notice all the
Elvis-connected

musicians
!!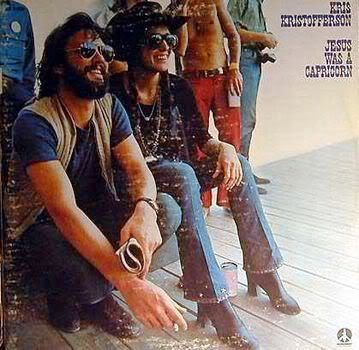 Jesus Was a Capricorn (Monument KZ-31909, 1972)
Side One
1. "Jesus Was a Capricorn (Owed to John Prine)"
2. "Nobody Wins"
3. "It Sure Was (Love)"
4. "Enough for You"
5.
"Help Me"
[Larry Gatlin]
Side Two
1. "Jesse Younger"
2. "Give It Time to Be Tender" [Kristofferson, Donnie Fritts]
3. "Out of Mind, Out of Sight" [Kristofferson, Stephen Bruton]
4. "Sugar Man"
5.
"Why Me"
Produced by Fred Foster and
Dennis Linde
Drums: Andy Newmark,
Kenny Buttrey
Guitar:
Chip Young
,
Dennis Linde
, Fred Carter Jr,
Grady Martin
,
Jerry Shook
, James Colvard, John Buck Wilkin,
John L Christopher Jr
, Mac Gayden, Stephen Bruton
Bass:
Norbert Putnam
,
Tommy Cogbill
Dobro: "Uncle Josh" Graves
Steel guitar:
Weldon Myrick
Piano:
Bobby Emmons
,
Bobby Wood
,
David Briggs
, Dr. John Harris, Mike Utley
Strings: Brenton Banks, Byron T Bach, Carl Gorodetzky, David Darling, George Binkley III, Lillian Hunt, Sheldon Kurland, Steven Smith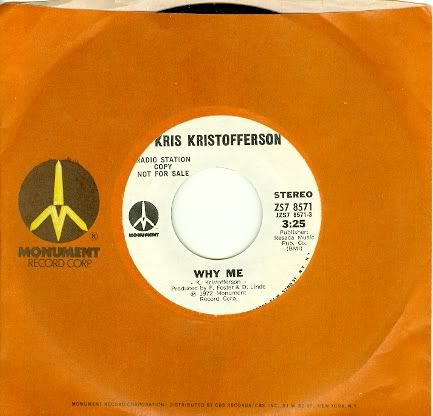 How much you want to bet Elvis had a copy of the single, or album?