One of the most wonderful discoveries from a tape search of the Graceland archives was Elvis' lovely 1966 home demo of Ned Miller's ballad "Dark Moon," with harmonies supplied by pal Charlie Hodge.
Presley's return over and over to the song's chorus, while playing his acoustic, would be a pattern revisited during the incredible June 1968 small combo jams. When Elvis liked a piece of music, he didn't want to let it go.
Check it out!
.
.
Elvis Presley - "Dark Moon" (unedited 1966 home demo, Los Angeles)
But ... did you know the song was a big 1957 pop and country hit for one
Bonnie Guitar
?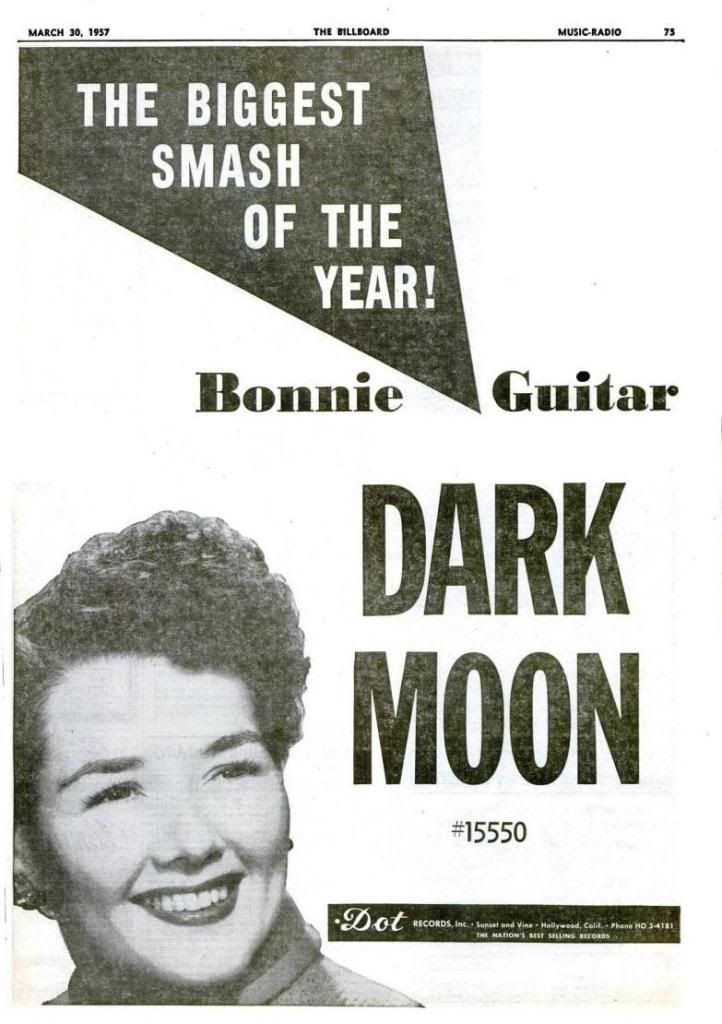 Billboard - March 30, 1957
Below is Bonnie's rendition, for those of you who've not heard it.
Enjoy!
.
.
Bonnie Guitar "Dark Moon" (Dot 15550, March 23, 1957)
Billboard "Honor Roll of Hits" #2, June 17, 1957
Previously issued for the country market only on Fabor 4018.
Bonnie is still with us -- she lives in Tacoma, WA and just celebrated her 87th birthday on March 25.
Rock on, Bonnie!