In the summer of 1977,
Bruce Springsteen
was working on a new album. It was a pivotal moment, his first recordings following a very difficult legal mess with his former manager. That July he took a break, riding his motorcycle across the country as the sessions were shifted from New York's Atlantic Studios to the Record Plant.
Rolling Stone
published an article on Bruce's status in its August 11 issue.
One photo stands out: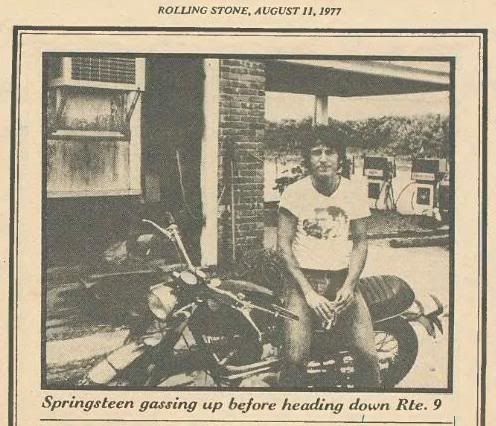 Note the T-shirt: it's

Elvis

!
Bruce had seen Presley in May at the Spectrum in Philadelphia and was stunned by Elvis' unwell appearance and uneven performance. "It was not a good night," as he discretely recalled. Friends say Springsteen privately shared the concern of many fans about Presley's health and future. It almost seems like the worry is evident in this July photo on the road.
Inspired, Bruce completed a song tailor-made for Elvis called "Fire," a homage to Elvis' great early-sixties
Doc Pomus
and
Mort Shuman
singles "His Latest Flame" and "Suspicion." But the demo -- if sent -- never made it to Graceland.
After Elvis' tragic death, the song went elsewhere. Bruce's 1977 version remained in the vaults, while
Robert Gordon
cut a killer rendition with
Link Wray
(and Bruce, uncredited, on piano) that December, and a pop single by the
Pointer Sisters
hit #2 on the charts in 1979.
Elvis would have loved both recordings, Gordon's rockabilly roots so rooted in the early Presley sound, and his appreciation for the Pointer Sisters stretching back at least to 1975, and his cover of their single of the year before, "Fairytale."
The
Darkness on the Edge of Town
album, issued in June 1978, would be rightfully heralded as perhaps the best sustained work of his career, and the tour that year is now debated as the greatest in the history of rock 'n' roll.
Coincidence
? I say not.
Last edited by drjohncarpenter on Thu Feb 04, 2010 12:24 pm, edited 1 time in total.