GREIL MARCUS - Do politics rock?
Interrogation by Jason Gross (June 1997)
Do you find that this youth movement that grew up around rock and roll faltered after the late '50s?
There was always an element of rock and roll that did want to grow up, go to nightclubs and get married and make their parents happy.
Frankie Avalon
was that sort. You also had people like
Dion
who came from a very lower-class Italian background and got himself into a gang and into heroin. When his rock and roll career collapsed, he found his way into Greenwich Village and the folk scene and followed a real twisting road.
It wasn't just the big guns being silenced (
Presley, Chuck Berry, Buddy Holly, Jerry Lee Lewis, Little Richard
) but it had more to do with the audience. People like me and all the people I knew got a taste of something dangerous when rock and roll first really exploded. A lot of people thought "now the world has changed, now it's different, we're different, we're different from our parents."
But by '58 or '59, the number one song was "Tammy" by
Debbie Reynolds
. I remember at the time thinking "this was all a trick that we played on ourselves. We only pretended that we were rebellious, that we were different, that we wanted something different." In fact, deep down, what we really wanted was a lullaby. We wanted "Tammy." There's no question that the people who bought "Tammy" were the same teenagers who were buying "Hound Dog." I remember at the time being very disappointed with that. I think that the great proportion of the audience was just in high school. When they graduated from high school, they put aside childish things to grow up.
So, it was a big shock to a lot of people when in '63 and '64, the story started up again. I don't think that most people ever expected that, in any fundamental way, rock and roll (music that affirmed meaninglessness and in that affirmation contained every conceivable kind of meaning) would ever be a part of their lives again. That's one of the reasons that people dove head-long into

the Beatles

. It wasn't just 13 or 14 year old girls that were part of the audience- it was also college students and other people.
How do think their cultural impact was different from the first wave of rock and roll?
One thing was that the original figureheads weren't supposed to act very smart. They were supposed to be extraordinarily polite, as both
Jerry Lee Lewis
and
Elvis
were, or they were supposed to be extremely circumspect, as
Chuck Berry
was.
If
Berry
, as a black man, said HALF of what he was thinking at any given moment, he might have been lynched. He probably should have been a hell of lot more careful than he was because the cops were always on him. He had already been in prison long before he had become a musician. He was arrested and held in jail overnight in Mississippi in the '50s. He supposedly looked at a white women "the wrong way" after a concert - he might have winked at her, and she became hysterical and called the police.
Chuck Berry
was a handsome, smart, cool black man who, for white cops, was nothing but trouble.
The only person of that first generation who could have started to act hip was
Buddy Holly
. He had married a Puerto Rican woman and moved to Greenwich Village and God knows what would have happened if
Buddy Holly
had lived.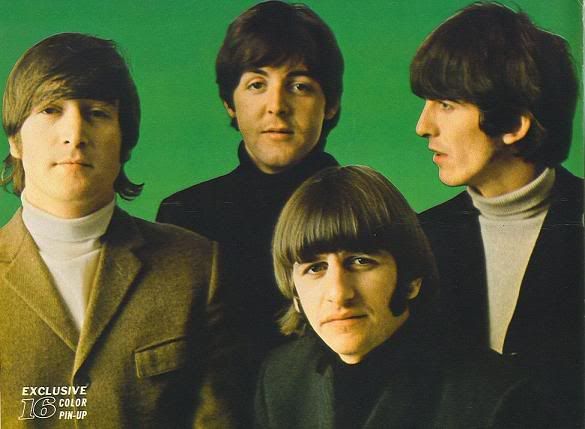 The Beatles - March 1966, London
The Beatles

were the first group of people to come along who didn't pretend to be stupid. They acted and talked as intelligently as they actually were. They allowed the

Rolling Stones

to come along and then be as cool, as obnoxious, as bohemian, as "**** you," as in-your-face as they wanted to be. It suddenly turned out that that you could act this way and not suddenly burst into flames. You could just get away with it.
[ snip ]
As the '60s progressed and the bands and political movements around it got more radical, did you think that their politics were sincere or meaningful at all?
[ snip ]
When the bands became "political," they never did become political. Instead, individuals in certain groups began acting as whole people. Whole people have political dimensions. They can get outraged at things and they're moved by other things. They talk with their friends about these things and if they have a public forum, they speak publicly about these things. That doesn't make that the whole of their lives but any real person who's living in the real world is going to be energized by a political situation or disgusted with those same things. They're going to react with a sense of confirmation or exclusion at that political event.
That's what people began to do. They were doing this within the protection of a culture that seemed autonomous. It gave them the permission and the strength to do that. When everyone around you is taking drugs, having sex and espousing extreme political opinions, then it seems like the natural way to live. So just as you say "why shouldn't I take this LSD?" you also say "why shouldn't I say what I think of the Vietnam War?" That was something absolutely new. People didn't do that before.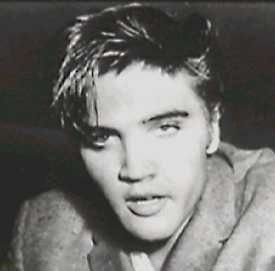 Elvis Presley - June 1956, Oakland
In 1956,
Elvis Presley
didn't exactly endorse a presidential candidate but bizarrely, when he was asked who he was going to vote for, he said he was going to vote for
Adlai Stevenson
. They shut him up really quickly. They didn't want to alienate anybody plus this is a good American boy who's supposed to sing songs and NOT have opinions. You might think that it's odd that
Elvis Presley
would vote for the egghead governor of Illinois but (white) people in Mississippi didn't vote for Republicans then- it wouldn't have occurred to them. Stevenson carried Georgia, Alabama, South Carolina and that was about it.
Perfect Sound Forever
http://www.furious.com/perfect/marcus.html