Did you know Elvis might have met singer/songwriter and hero Ivory Joe Hunter?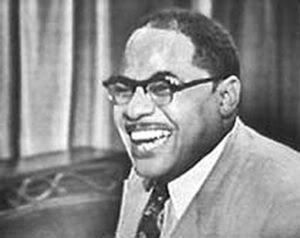 Ivory Joe on "You Asked For It" - DuMont Network TV, April 1951
Ivory Joe's daughter

(possibly)

, Elvis, Ivory Joe Hunter - July 1957, Memphis, TN
*
---
Ivory Joe Hunter enjoyed a #1 R&B, #12 Pop crossover hit in 1956 with his classic "Since I Met You Baby."
http://en.wikipedia.org/wiki/Since_I_Met_You_Baby_(song)
After running into comedian Brother Dave Gardner, who mentioned that Hunter was in town, Elvis invited both over to his new home, Graceland.
According to Hunter it was a very good visit, completely erasing the rumours he'd heard about Presley's racism..
He showed me every courtesy, and I think he's one of the greatest.
The feeling was mutual.
Elvis taped several Ivory Joe Hunter-based recordings -- or arrangements -- through the years:
Out Of Sight, Out Of Mind (1956)
I Need You So (1957)
My Wish Came True (1957), (1970) and (1977)
Ain't That Loving You Baby (1958)
I Will Be True (1959) and (1971)
I'll Take You Home Again, Kathleen (1959) and (1971)
It's Still Here (1971)
Learn more about Hunter by clicking this link ->
http://en.wikipedia.org/wiki/Ivory_Joe_Hunter
*

I'm not 100% sure this 1957 photo is Ivory Joe, but my intuition says

yes

-- can anyone confirm?
Last edited by drjohncarpenter on Mon Feb 22, 2010 1:19 am, edited 2 times in total.