Elvis' return to Madison Square Garden in June 1972 was big news. It even elicited a photo and a mention in the conservative weekly of the time,
LIFE
magazine.
Elvis was featured in an article on "The Nifty Fifties" (ugh), where they noted that:
THE NIFTY FIFTIES

It's been barely a dozen years since the '50s ended and yet here we are again, awash in the trappings of that sunnier time, playing new attention to the old artifacts and demigods.

Elvis Presley, back from exile in the movies, gave his first Madison Square Garden concert last week.
Apparently, Elvis was "raunchier than ever." Thanks, LIFE.
The photo, taken on Saturday, November 13, 1971 at the evening show in Dallas, was pretty cool though.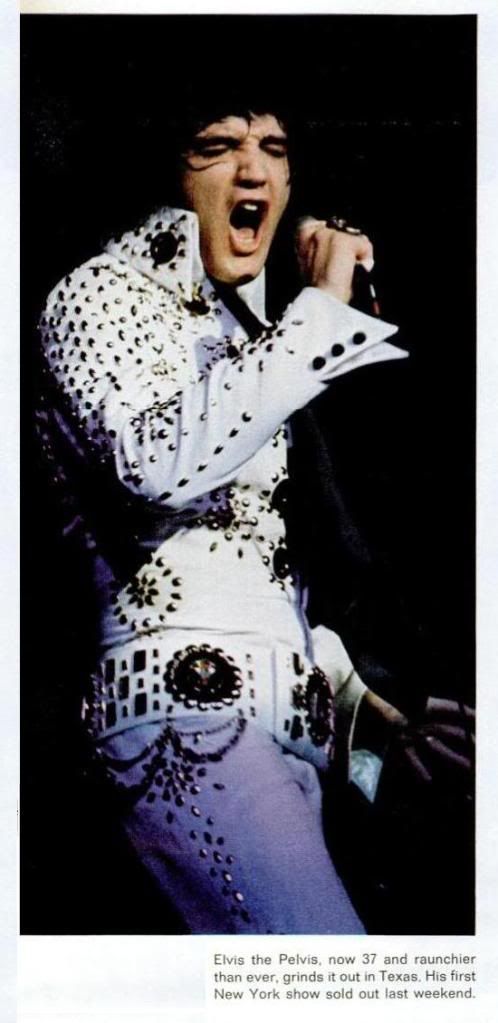 LIFE

, June 16, 1972
Photographer: Jerry Hightower
Date and Location: Saturday, November 13, 1971 ES, Memorial Auditorium, Dallas, TX
Last edited by drjohncarpenter on Tue Mar 22, 2011 12:51 am, edited 2 times in total.