I recently stumbled across an insightful 1997
Billboard
article detailing how some of the coolest official Elvis outtakes from 1956 and 1957 (not to mention quality tapes from 1968) were uncovered in the years after Elvis' death.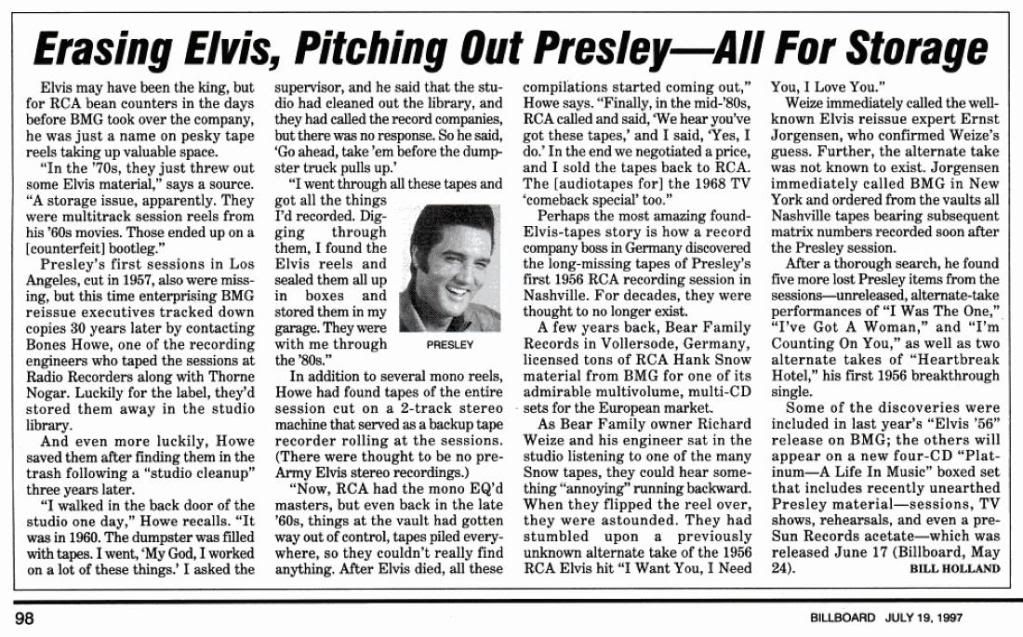 Billboard

- July 19, 1997
Bones Howe --> Yes!
Back in January 1957 he was a 23 year-old assistant engineer under Thorne Nogar -- "Thorny," as Elvis called him -- at Radio Recorders. Note this 1957 session log:
Mixer:
Thorne
Recorder:
Bones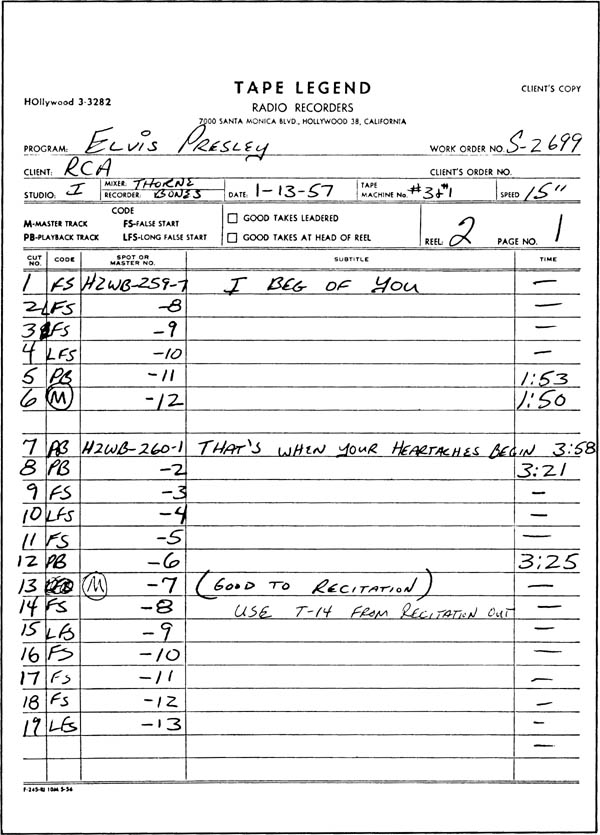 Radio Recorders: Sunday, January 13, 1957
Bones would go on to be a very successful producer, not to mention engineer all Elvis' 1968 TV Special recordings.
Bones Howe
http://en.wikipedia.org/wiki/Bones_Howe
The fruits of Howe's twenty years of safekeeping Elvis reels first surfaced on this stunning UK release: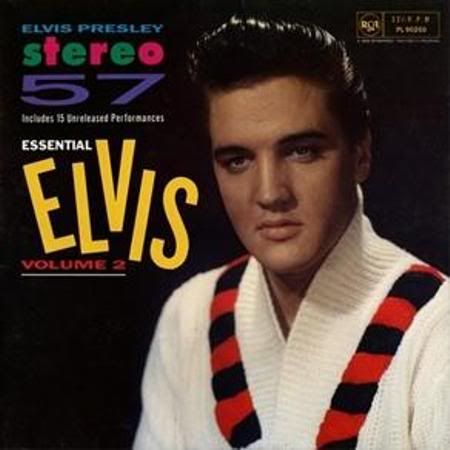 Stereo '57: Essential Elvis Volume 2

(RCA PL 90250, December 1988)
Note: This actually made the UK charts in January 1989, peaking at #60!



Side 1


I Beg Of You (Take 1)
Is It So Strange (Take 1)
Have I Told You Lately That I Love You (Take 2)
It Is No Secret (Takes 1,2,3)
Blueberry Hill (Take 2)
Mean Woman Blues (Take 14)
Peace In The Valley (Takes 2,3)
Have I Told You Lately That I Love You (Take 6)

-->

later released on

Flashback

(FTD)



Side 2


Blueberry Hill (Take 7)
That's When Your Heartaches Begin (Takes 4,5,6)
Is It So Strange (Takes 7,11)
I Beg Of You (Takes 6,8)
Peace In The Valley (Take 7)
Have I Told You Lately That I Love You (Takes 12,13)
I Beg Of You (Take 12)

From the liner notes:
Recorded on January 12, 13 and 19, 1957.
Project produced by Roger Semon.
Mastered by Boppin' Bob Jones.
Project research by Ernst Jorgensen and Bones Howe.
Special thanks to Don Wardell, Ernst Jorgensen, Bones Howe and Ger Rijff.
The LP was a beautiful, gatefold release -- it was a thrill to buy a copy. RCA would do a US pressing later in 1989. To date, most of the music presented on this title has not been released elsewhere officially, not even on RCA's Follow That Dream collectors label.
More from the liner notes, by the late, great engineer Bob Jones:
A TECHNICAL NOTE ABOUT BINAURAL

A couple of years before the advent of the stereo disc in mid-1958, major record companies had been experimenting with stereophonic recording of classical music (often referred to then as 'binaural'). In the popular-music sphere, however, state-of-the-art studios were using the new Ampex 2-track tape recorders for making binaural tapes for other purposes. The engineers would place, say, the vocalist or soloist on one track and the backing band on the other; this enabled further engineering and mixing to produce the final mono master after the performers had left. In the earliest days -- as in the case of these Elvis sessions -- the binaural machine was run only as a safety copy.

Although these 2-track tapes were never intended for stereophonic release thirty-odd years ago, I have very carefully prepared them for stereo enjoyment utilizing techniques that I hope are compatible with the aims of the original recording team and artist. The quality and clarity of these originals certainly belie their age and permit and exciting stereo image by any standard -- a tribute indeed to the Radio Recorders engineers.

BOB JONES

The discovery of these 2-track masters is nothing short of a miracle. The tape boxes have "erase" clearly written on the master log sheets. They are the only ones known to exist from the pre-stereo era.
Imagine if they had indeed been erased.
Again, we thank you,

Dayton Burr "Bones" Howe

!
Last edited by drjohncarpenter on Mon Jul 11, 2011 11:46 am, edited 2 times in total.