The
New York Times
didn't always "get" Elvis.
Below is one example, from 1973 -- enjoy!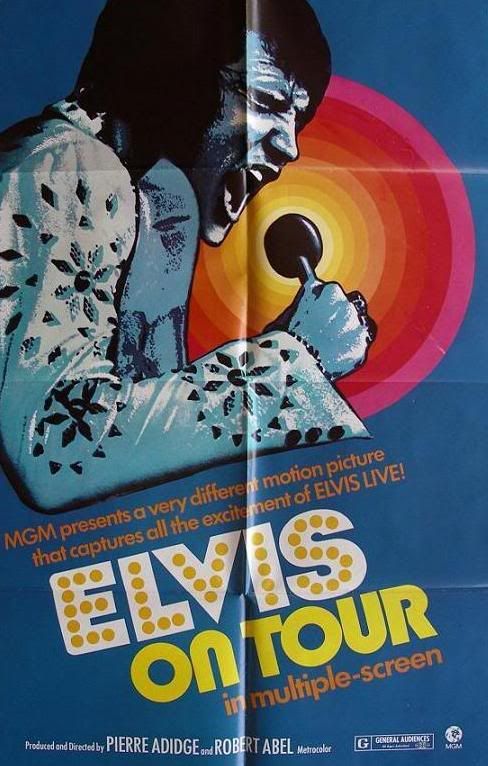 Elvis On Tour (1972)
Screen: 'Elvis on Tour': Performer Is Pictured On and Off Stage
By VINCENT CANBY
Published: June 7, 1973
A natural spin-off of the rock concert tour is the rock concert tour film, at which Pierre Adidge and Robert Abel ("Mad Dogs and Englishmen," "Let The Good Times Roll") are such experienced hands that I suspect they were inhibited by the magnitude of their latest subject, Elvis Presley. Or perhaps—dare I say?—his minitude.
The movie is called "Elvis on Tour" and it purports to be an intimate portrait of Elvis as he revealed himself on recent tours, while performing onstage and while getting on and off airplanes, on and off buses, and in and out of limousines. Strip away the storybook myth and—lo—there is a storybook myth underneath: a nice, clean-cut, multimillionaire pop idol who is, offstage, hard-working and friendly and something less than a riveting personality.
The essential blandness of the offstage Elvis has the effect of diminishing the impact of what we see of the onstage performances, which are presented with a lot of fancily photographed and edited split-screen frills that ultimately suggest that Elvis is much duller to watch than to hear.
Whether this is his fault or the fault of the moviemakers, I don't know. It is quite apparent that Mr. Adidge and Mr. Abel are treating him with the kind of respect that French television used to reserve for the formal appearances of De Gaulle. The camera never catches him in a truly candid moment. Close-ups do not reveal anything but, rather, they enshrine an ideal, like an official photograph of a President or a Pope.
Compared with "Mad Dogs and Englishmen," which chronicled the American concert tour of Joe Cocker in a way that reflected Cocker's tumultuous talent, "Elvis on Tour" seems almost stately. Elvis himself looks vaguely ill at ease in his baby blue (or scarlet), rhinestone-studded Batman costume, not really formidable enough to be announced (as the film does) with the first several bars of "Thus Spake Zarathustra."
The film opened yesterday at the East 59th Street Twin 2 Theater and other theaters.
ELVIS ON TOUR
, directed and produced by Pierre Adidge and Robert Abel; director of Photography, Robert E. Thomas; editor, Ken Zemke; distributed by Metro-Goldwyn-Mayer. Running time: 93 minutes. At the 59th Street Twin 2 Theater, 59th Street east of Third Avenue, and other theaters. This film has been classified G.
With:
Elvis Presley, Jackie Kahane, Kathy Westmoreland, The Sweet Inspirations, J. D. Sumner and the Stamps Quartet, Vernon Presley and others.