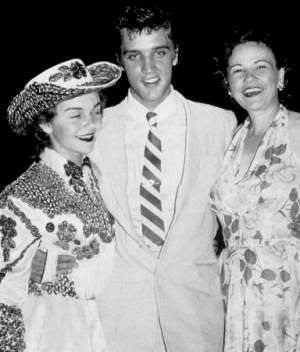 Ann Raye, Elvis, Mae Boren Axton


Thursday, May 26, 1955, Junior College Stadium, Meridian, MS
The "May 13, 1955" interview of Elvis by Mae Boren Axton, Jacksonville, Florida schoolteacher, Tom Parker publicist and future co-author of "Heartbreak Hotel," is the earliest known we have with Presley.
But a careful listen reveals that the dating of the interview is in error!
You've covered a lot of territory in the last few months, I believe.

Uh, yes ma'am, I've covered a lot of, mostly in West Texas, that's where I, that's where my records are hottest, around in, uh, San Angelo, in Lubbock, and Midland, Amarillo ...
The
three-month period
in 1955 where Elvis, Scotty and Bill really hit West Texas was May to July.
And
the first time he played Amarillo
was on
June 2, 1955
.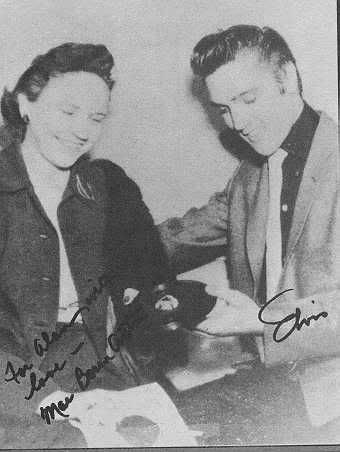 Mae Boren Axton, Elvis - March 1956
Thus, this legendary interview is more properly dated to Elvis' second tour of Florida, July 23 to 31, 1955. And since Axton was based in Jacksonville, the interview likely took place on
July 28
or
July 29
. Finally, a later interview with Axton for Radio London revealed it was done in Presley's motel room, and aired on the radio later.
This still remains the earliest extant recording of Elvis being interviewed. For now.
Last edited by drjohncarpenter on Wed Jan 18, 2012 3:17 am, edited 2 times in total.