keninlincs wrote:I use the latest version of IE on my pc whichis the vista version of windows,however if i try opening more than a couple of pages i get the spinning blue circle and nothing happens ,then if i try to close the browser i get a warning that the window is busy and may cause problems if i close it
what is the cause of this and how can it be prevented?
Thanks in advance
Hi Ken It's more likely in the Tools - Add-on Manager menu. In there, you'll find a number of add-ons; some of which you may or may not recognize.
Go ahead and disable all of them and see if the problem persists. If it goes away, then what I would do is start re-enabling add-ons, probably one at a time, based on which ones you recognize and see what comes back.
First make sure you go to Windows Update and see if there are any updates for Internet Explorer.
Even if you are set to automatically install updates, some may be manual updates only, so you will need to check in the optional section of "Windows Update" after it scans for them. You should have already gotten two Service Pack upgrades and a Platform update <-- this is important.
Here's how to get there:
At the top of your browser click on the "Tools" tab. (If you don't see the Tools tab right click on the top and put a check in the "Menu bar")
Then you will see "Internet Options" in the list click on it.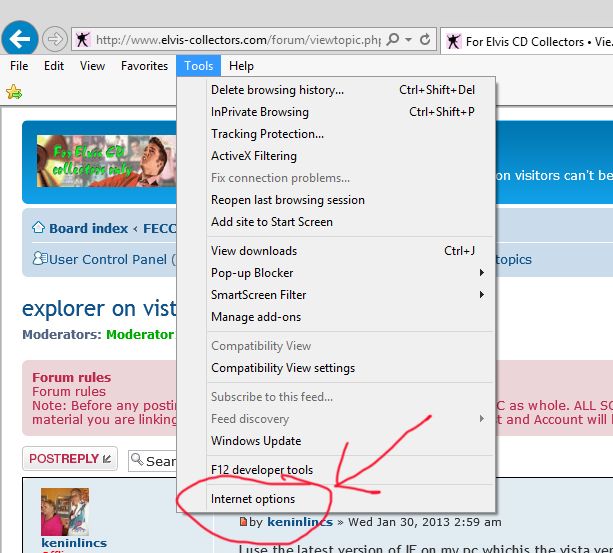 When "Internet Options" window is open click on the "Programs" tab at the top and then click "Manage Add-ons"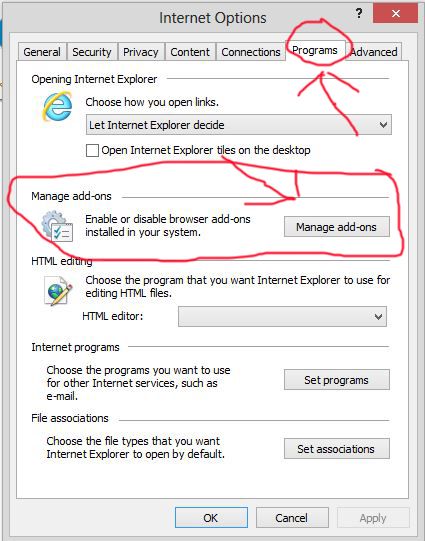 Then "Disable"
all
of them, Close your browser , reboot and then reopen the browser and see if you are still getting the circle, then you can re-enable the add-ons one by one to see which one is causing the problem.
Last if the problem still persists reset your browser as a final resort in the "Advanced" tab as below:
I highly recommend you upgrade at least to Windows 7.
Windows Vista is to Windows 7, as what Millennium was to XP.
They were as beta's to the new formats with short shelf lives.
let me know.