For those of you who have downloaded PDF's and always wanted to save pictures that may be part of the file, or have had to shrink them down using the snipping tool to convert them, well I have come across a free program that will allow you to turn any page, or all pages of your PDF into an image file.
I converted 30 pages at 200 DPI in less than a minute it's really fast!
123
PDF
to Image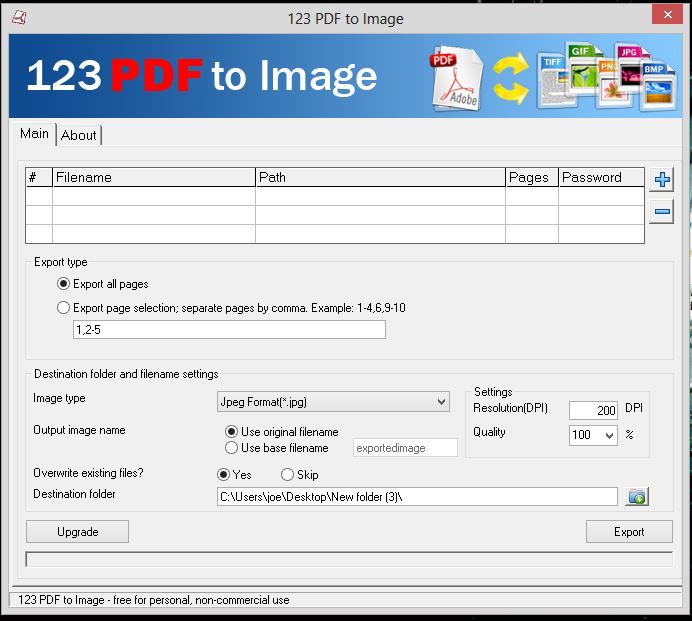 What's great about this other than it's free, is it will allow you to adjust the DPI resolution and quality before converting.
It's extremely easy to use -just drag and drop PDF's into the "Filename" pane as in the image above and hit "Export".
Benefits and features list include:
•convert pdf to image in 3 easy steps
•modify the output image type: BMP, JPEG, JPG, GIF, PNG, WMF, EMF, EPS, TIFF
•export all pages or a selection of pages
•choose the quality of your JPG file
•use this free PDF to image converter and modify the DPI settings of the output image
•work with password protected documents
•use it for free in non-commercial environments
There is a Pro Version for $19.95 but the only difference is in the Pro you can do more than 50 pages at once, which is no big deal as you can just do 50 pages if necessary to do more just reopen it and add pages 50 thru 100, etc.
Get it here:
http://www.freepdftoimage.com/