George Smith wrote:This seems like the best place to ask a couple of simple questions:

1) I believe that all European DVD releases run slightly too fast: by what percentage should one slow ripped music to bring it down to the correct speed?

2) If one is speeding up / slowing down music, is there a simple formula to follow: ie, 5% = 1 semitone, or what have you.

All help gratefully received!
Hello George this is very simple with a couple of basic programs.
Here's what's happening.
Movies are projected at 24 frames per second. This means 24 full images are projected off the film onto the screen every second. This is the world wide standard. But it becomes a problem when they transfer a movie to video. The PAL TV system shows images at 50 fields per second. One half of an image is displayed, and then the other half of the image is displayed. The result is that
25
full images are shown per second.
So how do you take 24 frames per second and display this on a TV which shows 25 frames per second?
The trick is to show 25 frames from the film every second. This fits perfect into the TV format of 25 full frames per second, but what happens is that 25 frames from the film are being shown in the same time as 24 frames were supposed to have been shown. This means that the film is being shown
4% faster
.
So if you want to slow down just the audio to the correct speed and pitch, first you will need a DVD audio extractor such as the one here that is full functional for 30 days.
http://www.dvdae.com/download
Next there is a program I have called "Sound Forge Audio Studio" by Sony
http://www.sonycreativesoftware.com/audiostudio
that has 2 excellent tools for this. The first one is a filter called "
Sony ExpressFX Time Stretch
"
Here you can subtract the 4% increase in speed of the audio without effecting any of the acoustical properties in real time. Awesome tool!
Then there is an excellent "
Pitch Bend
" filter as seen below.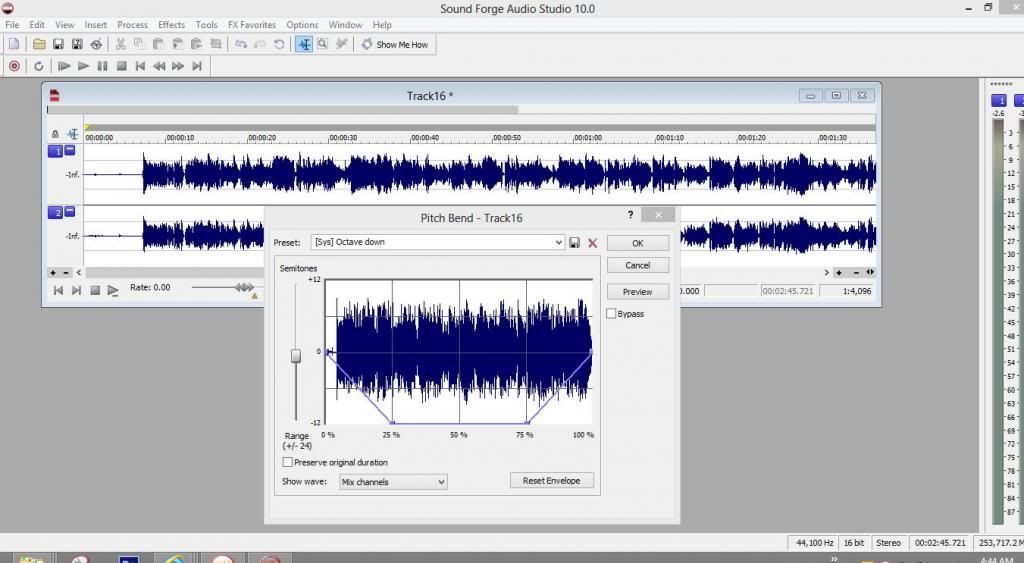 This will very accurately change the pitch of the audio very precisely while preserving the original duration of audio time. This is one of the best I've used.
This is very easy to accomplish for what you are wanting to do, as you can easily compare originals to NTSC for Time and Pitch, although a good ear is needed for those old audience recordings that run to slow or fast.
Hope this helps.