Charlie Rich was a wonderful, unique singer and musician. He could handle R&B, blues, country, rock, pop and jazz with ease, and he also got his start at Sun Records!
If you hear Charlie's 1959 Sun hit "
Lonely Weekends
," you will catch a major Elvis influence.
And Rich's 1961 Sun recording of "
Who Will The Next Fool Be
" is sheer perfection.
Charlie was on the Groove, RCA, Smash and Hi labels through the 1960s before landing at Epic Records. There, the singer hit very big in the 1970s with tracks like "Behind Closed Doors" and "The Most Beautiful Girl."
Did you know that Elvis' favorite album when he was in Baptist Memorial in October 1973, recovering from an overdose, was Charlie's
Behind Closed Doors
?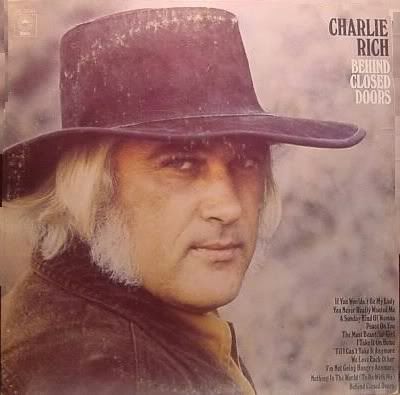 Note that Elvis' Stax recordings that year of "Take Good Care of Her," "Girl Of Mine" and "Thinking About You" were attempts to emulate Charlie's hit country-pop style of the time.
And Charlie released a cover of "America The Beautiful" in March 1976 -- are we detecting a pattern here?
I love the fact that, at the legendary Beatles visit to the Presley home on August 27, 1965, they found that Elvis had mastered the prominent bass line that runs through "Mohair Sam" (Smash 1993), noting that he was playing it on a Fender bass when they met.
Elvis also enjoyed the
flip side
of that Charlie Rich 45 -- "I Washed My Hands In Muddy Water" -- which is likely the "Muddy Water" reference alluded to by the group after the visit.
And, of course, Elvis cut a wonderfully furious version of "I Washed My Hands In Muddy Water" in June 1970. And Presley was probably quite aware of Rich's masterful 1963 recording of "
Big Boss Man
," since his 1970s performances echo Rich's arrangement.
Elvis would've done a nice job on "Mohair Sam," as he cut plenty of Dallas Frazier songs with success. However, to "best" Rich, Presley would have been wise to choose a different arrangement.
You do not have the required permissions to view the files attached to this post.
Last edited by drjohncarpenter on Tue May 06, 2014 10:03 am, edited 3 times in total.