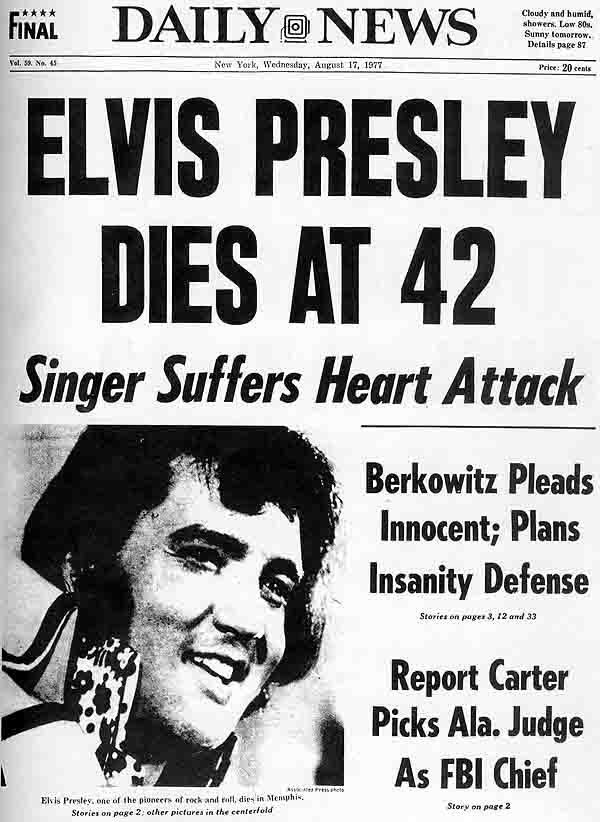 This is the New York newspaper we had the next day, having
heard it on TV on the 16th. It was all over the place,
like wild fire.
Minkahed and many of you echo my sentiments -
and yes, the '80s were
tough for young Elvis fans in particular.
(The '50s rebel Elvis was the
easiest to use to defend him...)
I was 8 years old in a family of fans - rather my mother
and brothers. I was too young in '73, but my family
was enraptured by the "Aloha" special.
I recall my brother's joy in getting
"Elvis' Golden Records" earlier in 1977
which I immediately fell in love with. (He had to beg
my late father for it.)
We also enjoyed his movies on TV and Mom's old 45's.
(To this day, I have original singles (usually with picture
sleeves)of "Heartbreak Hotel," "Hound Dog,"
"All Shook Up" and others like the "Love Me Tender." EP.
I also recall hearing either "Moody Blue"
or "Way Down" on the radio before he died.
August 16th, 1977 was the day before my mother's
birthday and I remember how she cried -we all did.
She turned 42 that next day. She'll turn 70 tommorrow.
Rest in peace, Elvis.