here's another one:
MORTICIAN WALL CLOCK Funeral Elvis coffin casket sign
If you are a MORTICIAN, FUNERAL DIRECTOR, Work at a Funeral Home, or around the Morgue....
like, ELVIS, or just weird stuff... this funny clock is for you or someone you know.
Will look great anywhere.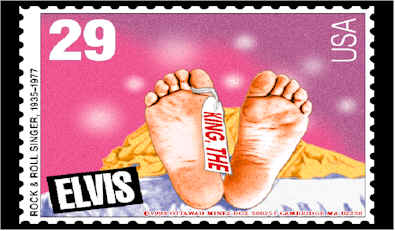 Or this one:
The ultimate fat Elvis:
Are you fed up with the endless parade of tacky, polyester clad, overly sincere Elvis impersonators?
We present to you the ultimate "bad" Elvis. What does Fat Elvis do? It depends on the situation. Fat is flexible.
He sings, break dances (you must see), ad-libs with his legions of fans and poses for photographs.
Fat Elvis is a popular addition to corporate conventions as a guest speaker, one man welcome committee,
or an exhibit hall "booth magnet".
Fat Elvis is getting bigger everyday!
It's a sick world..