Let's not get too carried away regarding conspiracies and dark doings. While there is a shady side to EIC, there is a shady side to almost anything, especially involving the rich and famous. EIC is a sad, but fascinating, document, featuring a man in decline. But how much decline is unclear. While nothing can be ruled out, only a handful of things are actually true. We all know Elvis had a severe drug addiction, a weight problem, which was at least partially tied to the drug addiction, clinical depression and other conditions and ailments. But the EIC footage is also inadvertently unflattering in a number of other respects. I am going to explore these aspects, to a limited degree, through a kind of "picture essay". Come join the ride.
Firstly, every image here comes from the final chapter on Disc 1 of "Elvis By The Presleys". Although this documentary is heavily skewed, if you haven't got it, get moving! It's very thorough, if still superficial, and features lots of great footage, photos and various excerpts of one kind or another. You'll probably have seen and heard many of them before, but some are new, and the way it's all put together makes for fascinating, if flawed, viewing.
Secondly, every image has been downsized to a more reasonable 400 pixels width for easier viewing.
Thirdly, all editing/enhancing was done in Paint Shop Pro 7. I'll talk more about this last point as we go.
OK. Let's begin. Here are eight shots from EIC. They have all been tweaked to some extent using Paint Shop Pro. I have not altered any aspect of the pictures in isolation; in other words, all the filters I have applied have been applied to the entire image. Nothing has been painted in, cut out or modified. These *are* the original images -- just enhanced for clarity and aesthetic appeal. I am sure you'll agree that there are some great shots here...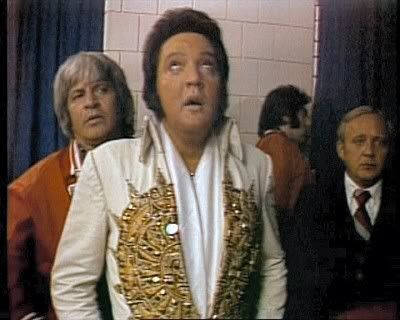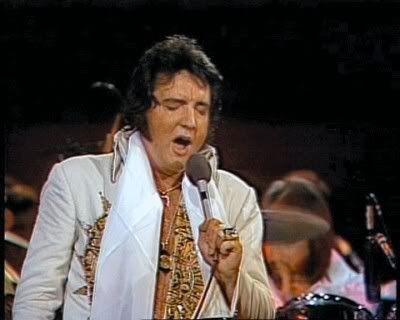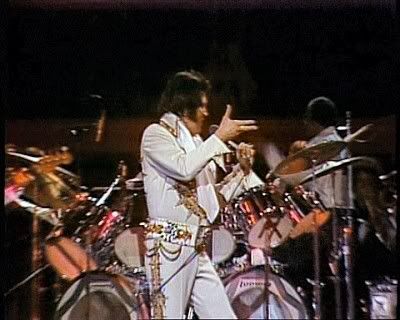 ... and maybe some not-so-great shots. You'll have noticed that Elvis looks a little "orange" in shots #4, #5 and #6. This is where Steve's makeup charge comes in. Whatever was applied to his face was deeply ineffective. But they probably wanted to avoid his face looking pale. He didn't look great in EOT for this reason, though he certainly appeared in better shape, and better health, than EIC. Would he have appeared better with less makeup in EIC? Almost certainly. It was a question of "how much?". They went too far.
Unfortunately, the EIC footage has a sickly greeny/brown tint to it, which when combined with pinky fleshtones, produces some unpleasant results. Let's take a look at that.
Here is Elvis psyching himself backstage. The first image is completely unaltered; the second has been enhanced in Paint Shop Pro. I altered contrast, brightness and saturation values in the second. I also changed the color balance and the channel mix. I basically swung the image from green into both a warmer red and cooler blue feel. It looks more modern and more natural this way. The red look on the wall is *certainly* more consistent with EPE's Deluxe Editions of Aloha and the Comeback Special. But we'll get to that later.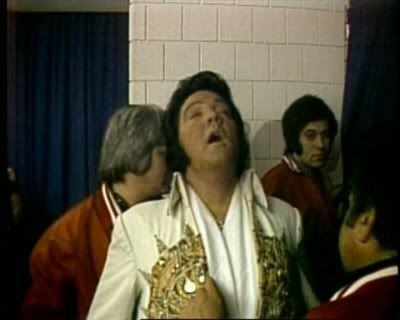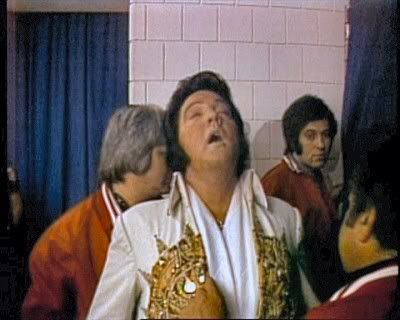 Question: Whose skin looks worse there? Elvis' or Joe's?
Now we'll move on to a more significant example regarding colour tone. The first shot is unaltered; I have applied a "One Step Photo Fix" on the second. A "One Step Photo Fix" is a meta-filter in Paint Shop Pro that changes a load of things in one go: contrast, brightness, saturation, color balance. It even sharpens the image slightly. I have modified this filter ever so slightly by taking out "edge smoothing". That's not really important to the discussion, but if anyone wants to copy my results, they need to bear that in mind. The "One Step Photo Fix" makes images far more impactful. I used it earlier on those first eight images I presented. But it can also result in a video-ish look. In other words: the image on the bottom is a better approximation of how Elvis looks in many poor quality bootleg copies out there.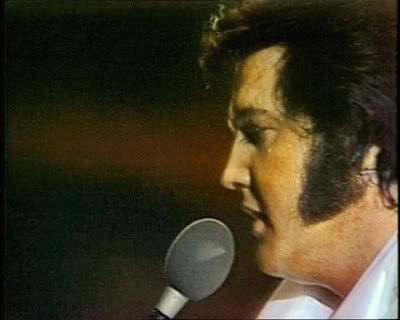 His skin is horrible. He looks like he's been dead for a week. His skin is almost *green*. This is what affects people's judgement of EIC. They say they see a "dead man" on stage. Well, no crap: Elvis did die, afterall. But they clearly mean he *already* looks dead. And it's hard to disagree.
But his skin is a combination of that horrible makeup and the nature of the source material. Watch what happens as I swing the footage round. The top image is the same as the previous "One Step Photo Fix" with a change in colour balance. There is now less green in there. The bottom image is the same as the top with an additional change in colour mix. There is less green still. Am I cheating? Not really. The *whole* image has been filtered, not just part of it. And, as you can see from my comments on the "backstage" photo with Elvis and Joe Esposito, the source material is "green heavy". I have simply introduced more natural tones.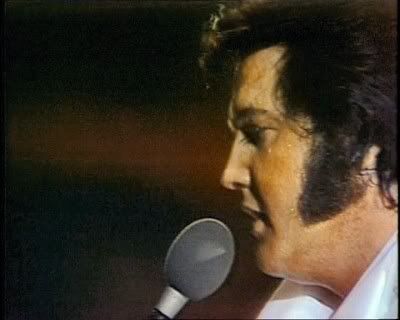 We're getting somewhere. But shots like this are destined to remain unflattering. Technically, I think the unaltered image is actually the *best* in this case, even though the footage, because of the green tint, makes everything and everyone appear boring and drab. Now, just out of interest, I decided to "paint" over Elvis and see what he'd have looked like with a better makeup job. This isn't a perfect piece of work from me, but it should give you some idea. Incidentally, this is an example of me altering a specific part of the image. So I literally *have* tampered with the image in a "cheating" way. But remember: it's just for show.
Don't shoot me: he's still a little brown. It still looks like makeup. But I couldn't get a complete match. My skills are limited. Unfortunately, the makup man's were *more* limited. So this image is not amazing, but there is a change. Now go back and compare *that* to the very first unaltered image of this shot. Well, no. Elvis actually *doesn't* look too bad in that unaltered image. So go back and compare this to the one to the bottom of that: the first "One Step Photo Fix" image that I said approximates the awful video copies out there. Elvis is *way* different.
I want to go back to the "backstage" image now. How did Elvis change over time? It's useful to bring in an image of his younger self: his twenty-years-younger self.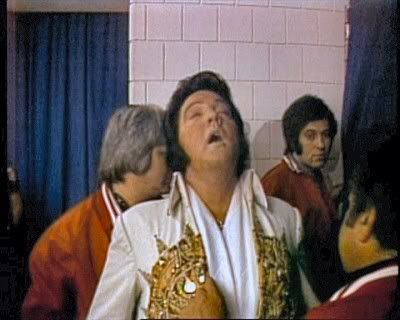 There's not actually a profound difference. Not beyond what twenty extra years of being alive typically does to a person. Elvis' neck and shoulders are hardly any bigger in the EIC image. Well, OK, his neck is somewhat bloated, but he's hardly a beefburger. He has certainly gained weight, but it isn't a catastrophic amount. Not for a 42 year old man suffering problems. The reality does not match the myth. If anything, Elvis' shoulders have stayed the same or even shrunk! His jumpsuit really does him no favours at all. It's a hideous, sagging mess. Look how it droops off his shoulders! Look how creased it is. With or without my enhancements, it also looks damp and dirty. It's a visual slur. Though it appropriately matches the man wearing it. There is a poetry to it. But it *is* awfully kept. Compare this to the "American Eagle" of Aloha. There is a world of difference!
But all of that may seem like a white-washing. Elvis *was* in a weakened mental and physical state. He truly *did* have health problems. Unfortunately, he also had eye surgery that he was advised against. Anything to make himself feel better. Unfortunately, it didn't actually make him *look* better. Elvis' eyes were some of the most distinctive eyes on the planet. And a person's identity rests very much in their eyes. Change them and you change the person. Or the outward perception by others *of* that person. Same with Elvis. His eyelids no longer curved downward and his eye sockets appeared hollowed out. They matched the man, but they destroyed the natural beauty that gave rise to the *image*. After the surgey, sometimes, he looked good, and other times, he looked bad. But he *never* quite looked like ELVIS PRESLEY ever again. This alone gives off the impression of watching a "different person", which is more or less synonymous with a "dying person", simply because it's Elvis, and simply because he *did* have problems and *did* overdose shortly after. A very unfortunate occurence. Like his makeup job. What is going on here?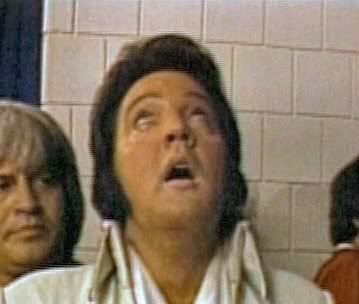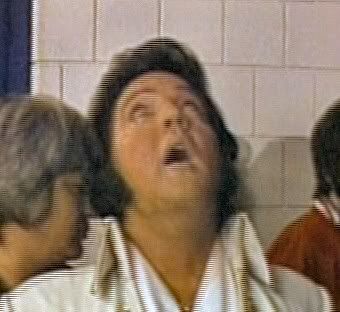 It looks like Elvis' eyelashes are growing about an inch below his actual eyes. Or that someone put the mascara in the wrong place. Or that it ran. I decided to do another paint job. The image on the top is unaltered, except for the fact that it's only *part* of the image (i.e. I cut it out/cropped the rest) and a basic "One Step Photo Fix" filter was applied, which are two things I did to the above images. The image on the bottom features a little tweaking. I replaced the faulty mascara shadow (or whatever it actually is) with proper skin. Judge for yourself.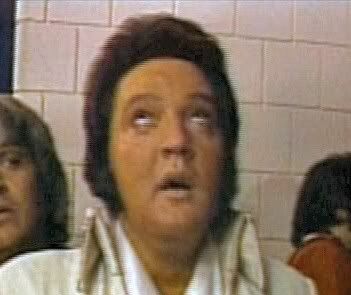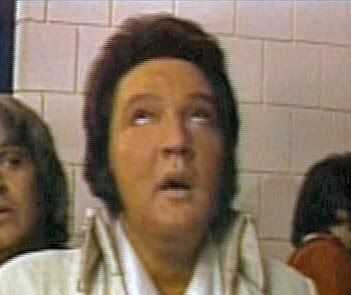 Here is a shot from Aloha. This ain't quite right, either. I don't know if you've noticed, but both the Aloha and the Comeback Special 2004 DVDs have reddish tints (the Comeback Special is ridiculous in many parts). However, the jumpsuit is considerably more striking, not only for the design, and not only because Elvis is in better shape, but because it's in pristine condition. The EIC jumpsuit had already been worn several dozen times that year. Look how rumpled it is along the shoulders. It had really taken a battering! And it showed in the captured footage. Elvis just didn't care about that, unfortunately, just as he didn't care about a lot of things. There is certainly a tragic element to EIC, and only a fool would deny that, but I beg to differ with those who say it shouldn't be released. The following images are unaltered.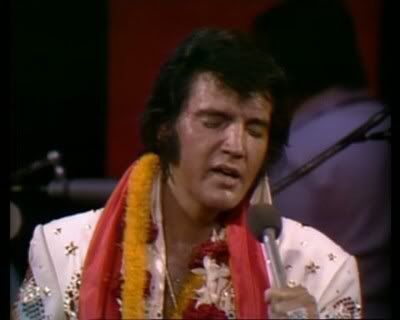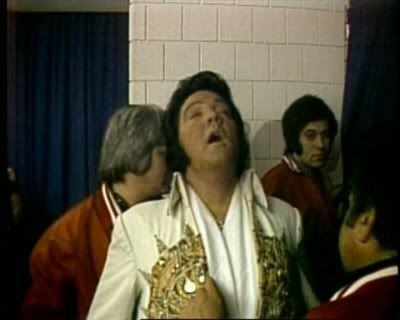 Can you see what I mean about the sickening green tint? It's almost as if EPE left it that way deliberately. Maybe the cameras weren't calibrated for backstage, maybe there was a strange lighting rig, maybe the footage has decayed, or maybe it simply needed colour-correcting all along. Trust me: EPE *ruined* the transfer of the Comeback Special. It certainly looks sharp, as sharp as Snazzy Pants Presley himself, but the colour balance is terrible. The PAL version is also vertically stretched. And that's meant to be their pride and joy. There is precedent. But that's another discussion. Anyway, if you still think I'm white-washing, let's pose a question: would the man at the top recognise the man below? There was a clearly a significant change, even between 1973 and 1977, when he had already slid into depression. It's a sad tale, but sad tales deserve to be told. EIC is the final chapter in an incredible legacy. Some of Freddie Mercury's finest and most moving work came out of Queen when he was dying of AIDS. John Wayne gave a brilliant performance as a man dying of cancer in "The Shootist" when he was... dying of cancer. You may say that John Wayne was an old man, but Freddie wasn't. Some legends die before their time. But they're legends because they put on an incredible show while they were here. Freddie sang "the show must go on". And that was Elvis' thinking. Right to the bitter end.
That about wraps things up.