Nice review, Shane. I appreciate your care in analyzing the album, but I disagree on most of your points, as some of it comes off as nit-picking. I lean much more towards LTB's comments.
For an admittedly hodgpodge release, Elvis' terrrific voice still has a way of redeeming so much of it.
A few random points: I see what you mean, Shane, about "Help Me Make It Through The Night" but I also think it's a terrific song and performance. I count myself as a fan of the song "Sylvia" and perhaps it's a US vs. UK thing but the name "Sylvia" (never mind that the song is 36 years old) just does not reach the same antique level of a name like "Ethel." That's a stretch.
I agree that "Miracle of the Rosary" is an odd choice, especially early on the album, but growing up Catholic, I was quite smitten as were others in my family to hear such a version of what I knew as the "Hail Mary" prayer. Elvis existed in the greater world and had a Catholic or two in his entourage and certainly his fan base. When he liked a song, he sang it, probably to a fault. And it's a knock-out version, too.
We've all gone off on the unfinished "Hey Jude" for years (it's a song that hasn't aged well, period) but sometimes I enjoy hearing it. Like some of the other '69 Memphis sessions, if I'm not mistaken, you can hear Elvis trying to sing in his early '60s register but the rasp of his voice plus the new maturity of his voice makes it not quite happen. Still, there's an endearing quality to his voice.
As for "Fools Rush In," depending on my mood, I still think even a half-done version by Elvis of this song is pleasant. The real one to hear is the remarkable orchestrated version from 1966 that Elvis did at home which appeared on FTD's "In A Private Moment." It's much slower and gives an insight to what a more Sinatra-fied Elvis might have sounded like. It, along with "It's a Sin To Tell A Lie" are worth the price of the disc.
Releases like "Now" and "Love Letters From Elvis" have their charms but as we all know really were cobbled together.
Ernst's excellent 1999 revisit of the "Burning Love" album placed '71's "I'm Leavin" among '72 sides.
Burning Love - Never Been To Spain - You Gave Me A Mountain - I'm Leavin' - It's Only Love - Always On My Mind - It's Impossible - It's Over - Separate Ways - Fool - Hound Dog - Little Sister / Get Back - A Big Hunk O' Love - Where Do I Go From Here - For The Good Times - It's A Matter Of Time - An American Trilogy - The Impossible Dream
To me, it's a great set, and not much later, artists' would put out albums out with songs worked on over multiple sessions over sometimes a long time span.
I recently almost picked up the CD of the original "Burning Love and Hits from His Movies" and found it to stomach-turning to see after all these years.
Anyway, as for "Now" as flawed as it is, it's still worth picking up. I gave it another spin after all your comments and have to say I throughly enjoyed the set list- warts and all.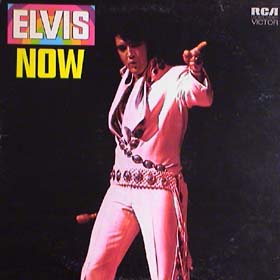 Last edited by Gregory Nolan Jr. on Sat Apr 08, 2006 1:22 am, edited 1 time in total.