I don't do long drawn out reviews. For those who may be considering this CD, here's just a tidbit of information about this show. As it states, it features Elvis' evening show in Tampa, Florida on April 26, 1975. First and foremost, it is an audience recording, which will immediately turn some folks against it. However, for those who don't mind audience recordings, read on.
As the
2001 Theme
played, I found myself getting goose bumps. Mainly, because of the female voice saying,
he'll be here in a minute. Are you ready? It won't be long now.
They were definitely waiting to see the man hit the stage. When he did, as usual, the roof came off of the place.
I was very pleased with the sound because Elvis' vocals are very much out front and smooth. His dialogue is clearly understood and as far as audience recordings go, on a scale of 1-10, I'd give it an 8. One word of warning though. If you listen to Elvis shows through headphones as I do, don't over-do the volume. There is just enough
highs
on this CD to get into your ears and leave a ringing afterwards. I found myself having to turn the volume down more than usual.
Elvis uses the typical,
welcome to the show, my name is Wayne Newton
line, which amuses the crowd. He also had J.D. do his divebomb routine twice, telling the audience after the first time that J.D. is much lower than that. Then convinces the crowd that he means "vocally" lower.
He also uses the
Bob Dylan slept in my mouth
line. As far as I can remember, this is the latest that I have ever heard him use this phrase. Someone feel free to remind me if there is a later show that they know of.
Elvis calls out for the
Hawaiian Wedding Song
, but Glen D. starts playing
I'll Remember You
. Elvis stops him and goes into the former tune. He does a pretty good job of
T-R-O-U-B-L-E
even though he totally messed it up just a couple of days earlier. The good thing about this show is that good 'ol Jerry Scheff is back and you can tell when Elvis introduces him, that he is glad to have him back.
Elvis immediately goes into his closing number following
An American Trilogy
. He doesn't tell the crowd that they've been a good audience, be careful driving home, kiss my ass, or anything of the sorts. When Al makes the announcement that
Elvis has left the building
, we hear a little bit of laughter from the crowd.
Even though this is a good audience recording, the bonus songs from Monroe, LA are in even better quality, and the frequency that has been giving your eardrums a beating is gone.
All in all -- decent show with Elvis obviously having a good time. There is lots of kidding with the crowd and the band. For those who collect a few audience recordings, you might want to skip it. However, for those who like the better than usual sounding audience recordings and like me, enjoy anything from the April / May '75 tour, get this one.
You'll enjoy it.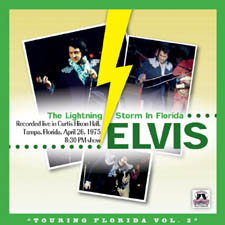 Recorded live at Curtis Hixon Hall
April 26, 1975. Tampa, FL.

Also Sprach Zarathustra / C. C. Rider / I Got A Woman - Amen / Love Me / If You Love Me / Love Me Tender / Teddy Bear - Don't Be Cruel / Help Me / Burning Love / Band Introductions / What'd I Say / Drum solo (by Ronnie Tutt) / Bass solo (Blues by Jerry Scheff) / Piano solo (by Glen D. Hardin) / School Days / My Boy / T-R-O-U-B-L-E / Hawaiian Wedding Song / Let Me Be There / American Trilogy / Can't Help Falling In Love / Closing Vamp- Announcements

Bonus from Monroe, LA May 3, 1975

How Great Thou Art / I'll Remember You / The Wonder Of You / Help Me Make It Through The Night / Johnny B. Goode / Steamroller Blues
Last edited by Rob on Mon Mar 27, 2006 1:10 pm, edited 1 time in total.