All Bond films (excluding
Never Say Never Again
) will be re-released in two-disc editions in the UK on July 17 of this year and will feature upgraded sound, improved picture quality and new bonus features. No details yet on any plans for the US.
Thunderball
through
The Man with the Golden Gun
will for the first time include a 5.1 surround mix in addition to the original mono mixes. The picture quality will be revamped via "Brand new 4000 horizontal line (4K) digital film transfers" for all films, and all DVDs will contain new bonus features including most notably audio commentary by Roger Moore on all of his films. All films will be released separately and as part of this special collector's case: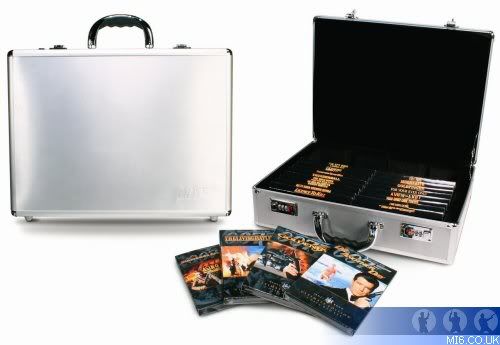 A decent source for information is
MI6.co.uk
, which also has some more details.
I started buying the Bond DVDs a while ago, but at the time they sold for a ridiculous $27 apiece (the average price for DVDs being $15-20 at the time), so I was buying them very slowly, and in the middle of my collecting, all but seven of the films were made unavailable (and I already had those seven). Shortly after (sometime in 2003) I read that they were soon going to release updated DVDs so I decided to hold off on purchasing any other titles I might come across. Little did I know I would still be waiting with the nine DVDs I had already bought three years later. Anyway, provided the price is decent -Amazon.co.uk currently has the set for pre-order for ₤210/€305/$384 (excl. shipping), which comes out to about ₤10.5/€15/$19 apiece, which is decent but can't be described as cheap- I'll probably pick it up as soon as it become available. Of course, that's assuming that there are no further developments along the lines of, for example, the US set being drastically cheaper/different or plans for Blu-Ray or HD-DVD.
Tom,
Perhaps an idea is to create a single "What's in Your Basket This Week?" thread and keep adding to it, rather than creating new ones every week? Your contributions would keep it near the top of the board anyway (:wink:) and people can have a better overview of people's prior purchases, allowing them to comment on any purchases they may have missed.