I have to admit to being barely familiar with Pitney. I've heard his stuff probably on oldies radio years ago.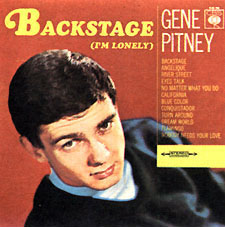 Some of his unflattering comments on Elvis have made the rounds recently:
http://www.classicbands.com/GenePitneyInterview.html
Interview with Gene Pitney by Gary James:
*****************************************8
Q -
Did you know Elvis?
A - "No. The day he died I was out cutting the grass. I didn't know what had happened during the day. My wife waved to me and said there was a long distance phone call. I came in, and it was Bert Newton who was a very big DJ in Melbourne, Australia. He said, 'Gene, this is Bert'. I said, "Hey, how you doing?, 'cause he does call now and then. He said, 'Gene what did you think of Elvis Presley?'
I said I wasn't that influenced as most people were, and I told him the truth. All of a sudden he says, 'You don't know what happened, do you?' And I said, 'No, I've been out cutting grass for the last 3 hours.' He said, 'Elvis is dead.'
Then, we just talked a little bit more about it. But, he was so surprised that I didn't know him. When Elvis came out with 'Heartbreak Hotel', I had just gotten into my Freshman year of high school. So, by the time I started recording, Elvis was gone. Elvis didn't do tours or anything like that.
Tragically, I think that was the thing that affected his whole life. He was locked away. He didn't partake in the touring, so I never did see him..."
.....Q
When you were touring England in the early 60's, did the whole long hair and rock 'n' roll pairing surprise you?
A - "Well, nothing in music surprises me. Everything is so cyclical to me in music. That period of time was almost a ten year cycle from when the 'Heartbreak Hotel' of Presley, which I think was around '54, and you're talking about '64 when The Beatles and Stones came out. Then, to me, everything got lost in the 70's. To me, it was a washout with the heavy metal and disco. There's not that many songs that I can remember that were stand-out things."
http://www.nationalreview.com/comment/e ... 070537.asp
Dawn Eden (from the NY Daily News) in the National Review:
I asked Pitney why he never recorded anything by another Los Angeles writer popular at the same time as Newman: Jimmy Webb. He responded with a story about another acclaimed artist who never quite caught on with him.
"I give Jimmy Webb all the credit for what he's done and all the success he's had, but it's just like — I remember the day that I was out cutting the grass and someone said Australia was on the telephone. I came in, I huffed and puffed up to the phone, and it was a guy that I knew very well, calling from Melbourne, Australia, and he said,
"What did you think of Elvis?"
I thought, what a strange thing for a man to ask, calling me from Australia in the middle of the afternoon. (Piers....?!
)
And I said, "Y'know, I was never really that impressed. I was not a great Elvis fan."
Then all of a sudden he stopped me and he said, "Do you know what's happened?" And I said, "Well, I've been out cutting the grass for about three hours. No, to be honest with you." He said, "Elvis has died."
[Both] Jimmy Webb's songs, and]Elvis as a performer never had the depth of the people that I liked.I like a lot of people who were obscure. [Original Drifters singer] Clyde McPhatter was one of my favorites, just a unique individual, in his own pattern, not following after anyone else...."
Rest in Peace, anyway.
The late Gene Pitney