WOOOOOOHOOOOOO!!!!!!
I thought that possibly I had only dreamed what I thought were hazy memories of Saturday mornings watching Lancelot Link, Secret Chimp
Eagle, Tom.........you boys should have known I was one of you.
I have the theme song playing in my head right now.
As for the Banana Splits, the most embarrassing memory of my younger years was of my being caught singing the theme song to this show at the top of my lungs in the shower when I thought that I was alone in the house.
I pulled back the curtain to find my mom amd dad in hysterics in the bedroom across the hall...........just before they told all their friends around the seaside cabin we had in Rhode Island.
Much ado was made over my bare ass grazing the curtain as I danced about the bathtub..............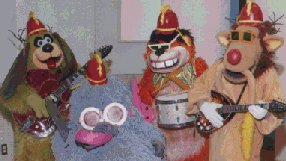 Here's the song......
http://franklarosa.com/vinyl/AudioPlay.jsp?File=TraLaLa.rm