I hate to advertise but this is an absolute STEAL at Sams Club!
2 DVD SET in DTS SURROUND SOUND!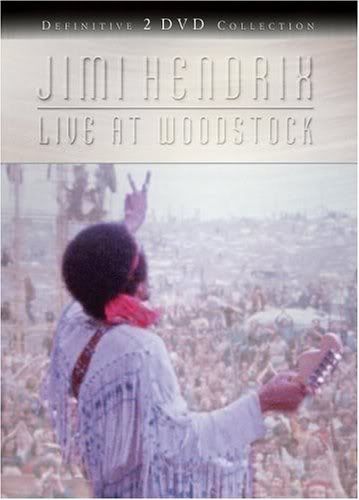 I know there is alot of fans here, so I had to pass this on.
Product Description
DVD ONE: Jimi Hendrix: Live At Woodstock
1. Message To Love
2. Spanish Castle Magic
3. Red House
4. Lover Man
5. Foxey Lady
6. Jam Back At The House
7. Izabella
8. Fire
9. Voodoo Child (Slight Return)
10. Star Spangled Banner
11. Purple Haze
12. Woodstock Improvisation
13. Villanova Junction
14. Hey Joe
15. The Road To Woodstock: New documentary directed by Bob Smeaton featuring new interviews with Hendrix band members Mitch Mitchell, Billy Cox, Juma Sultan, and Larry Lee, engineer Eddie Kramer, and Woodstock promoter Michael Lang among others.
DISC TWO: Jimi Hendrix: Live At Woodstock: A Second Look
1. Message To Love
2. Hear My Train A Comin'
3. Spanish Castle Magic
4. Red House
5. Lover Man
6. Foxey Lady
7. Jam Back At The House
8. Izabella
9. Fire
10. Voodoo Child (Slight Return)
11. Star Spangled Banner
12. Purple Haze
13. Woodstock Improvisation
14. Villanova Junction
15. Hey Joe
16. Jimi Hendrix Press Conference: Color film footage of never before seen Jimi Hendrix press conference held September 3, 1969 at Frank's Restaurant in Harlem. Hendrix answers questions about his Woodstock festival performance, his rendition of the "Star Spangled Banner" and the festival's cultural impact.
This 2-DVD set contains the MOST of the performance that Jimi played as the headliner of the Woodstock festival, as compared to the double CD released, the only song missing on this DVD is Hear My Train A Comin'. This is because the complete song was never filmed, but it can be found on DVD 2, where the song has been augmented with backstage and audience footage taken of portions of the performance.
The BEST PART about this new 2-DVD release is the second disc. Entitled 'A Second Look,' this incorporates black-and-white video footage shot by then 22 year-old Albert Goodman, who had used one of the very first SONY CV open-reel 1/2-inch videotape units. This 'Second Look' incorporates Goodman's footage, which provides further insight into how the audience was influenced by the music of Hendrix's new group 'Gypsy Sun & Rainbows.'
The quality of the first (filmed) DVD is fine, that of the second is spotty (it was mostly in black and white) supplemented with clips from the filmed version where the video had dropouts. The video version has the only clip of "Hear my Train Coming" - the film guys were reloading at that time.

This is of great historical value, and all Hendrix fans will want to own it, simply because it has the whole thing.
and...
My hat's off to them for hanging in there for Jimi.
Head's Up, the 2nd DVD is the same as the first; whats up with that??
Typical Amazon dumbass!!