2 games married together for mindless goodness. Only takes a mouse and keyboard!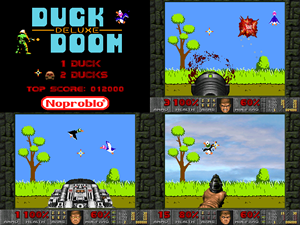 Download it here:
http://duckdoom.dayjo.org/
Zip file, so right click and extract. Go into the folder and doubleclick the exe file.
Shoot with Left button on Mouse. Move target with mouse
Pick the different guns after you have earned them with Keyboard 1-7.
Escape once for the choice of y or n to quit. Escape again to quit entirely.
Enjoy